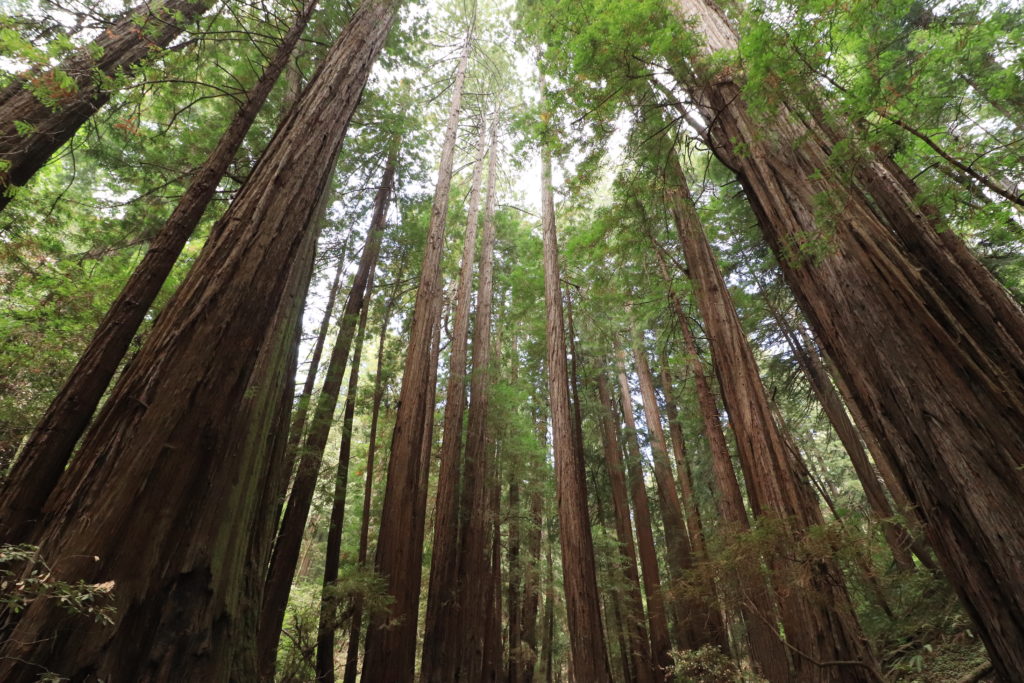 August 19, 2018 marks the 11th month birthday of our little princess and to make this day very special we planned a trip to one of the most popular destination near San Francisco. We took a hike to the amazing heritage of redwoods in Muir Woods National Monument in Mill Valley. In this post you will expect a story of an amazing adventure, be excited to discover Muir Woods precious gems and be amazed how these gems preserved itself for over a hundred to thousand years.
Muir Woods National Monument is very famous tourist destination near San Francisco thus a crowd of tourists visit this place everyday. We made a parking reservation online a week ahead of our visit, parking fee was $8, this is a requirement for all vehicle riders. There's also a shuttle reservation available on their website.
Pre-trip Preparation & Traveling
We prepared ourselves before driving off to Muir Woods. A short background was really helpful, we've known the weather condition so we dressed up right for it, we had our jackets and rubber shoes ready for the cold and the hike! We got our packed food and drinks although food is not allowed inside the park proper, there's a picnic area allocated for visitors outside visitor's center prior entrance to the park.
Traveling with an infant needs more than just packing, as parents we need to make sure that we have everything with us and these were basically her necessities including her outdoor essentials. And since this trip was going to be a long hiking and trekking, a baby carrier was the one on top of my baby's list. For more baby's outdoor essentials, check my previous post just for reminders on what to bring in case you're up for an outdoor activity!
We wanted to have a whole day adventure so we decided to leave home as early as 6 in the morning. Traveling to San Francisco early in the morning was less hassle since there was less traffic and we got to see some beautiful sights like sunrise along the way, from Vallejo it only took us about 30-40 minutes to get there. The road going to Muir Woods was a little bit scary, it was narrow and stiff that's why RV's or vehicles longer than 35 feet are not allowed or permitted.
Arriving at Muir Woods National Monument
We were very fortunate to book our parking reservation in advance, we parked few distance away from the entrance gate of the park. There were number of tourists in the parking who were also busy preparing themselves for the hike, some are couples, group of teenagers, families and kids even grannies were there too. There were shuttle buses also parked near the main entrance of the park.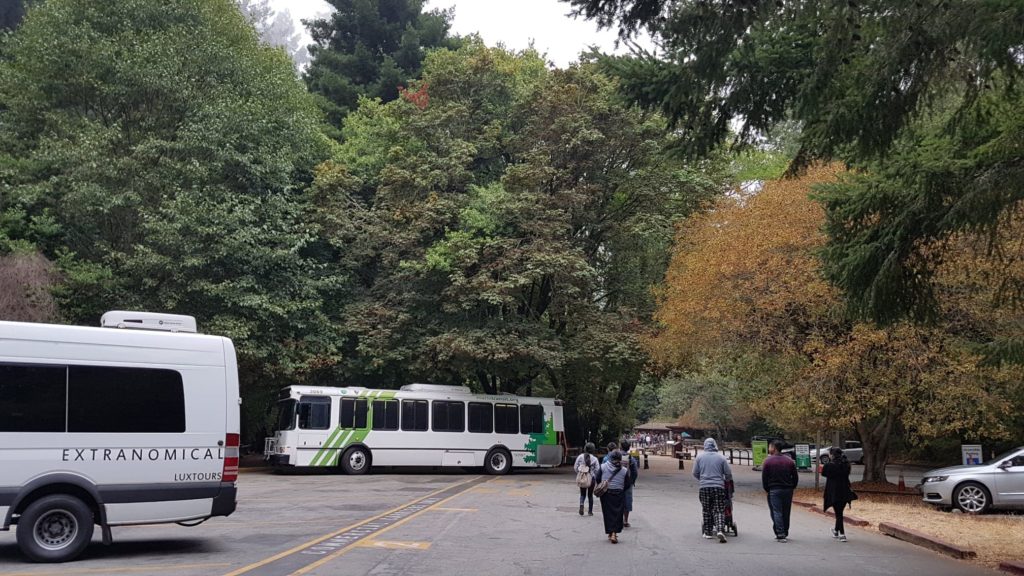 We headed to the entrance gate just  to see if they have a picnic area where we could take our breakfast first before the walk and hike. Unfortunately, the park doesn't have a decent picnic area, only few wooden tables and benches in the open walkway.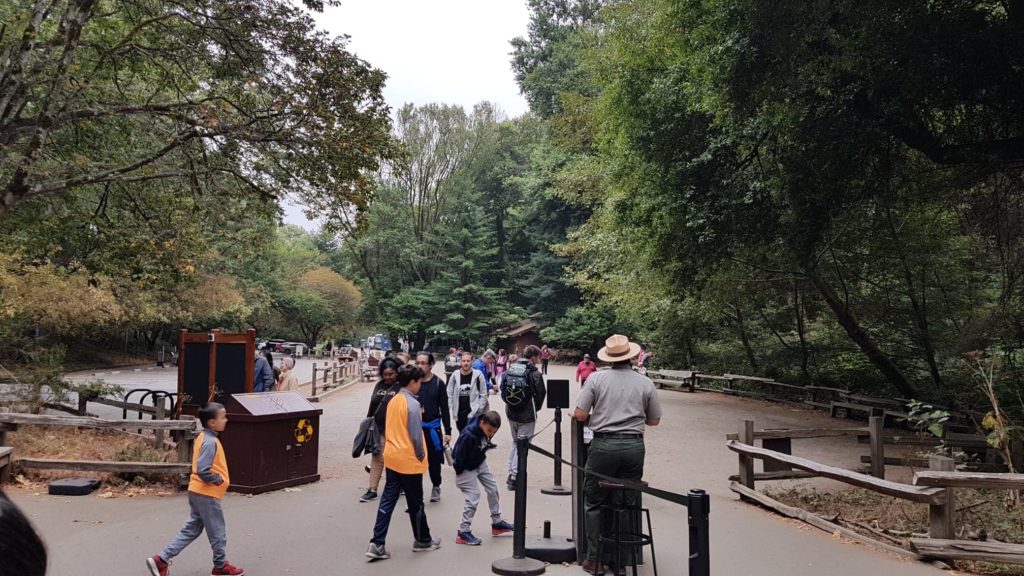 Food is not allowed in the park proper and we were not comfortable to set all our packed food to the tables in the open walkway so we decided to get back in the parking and eat in the van instead. It was not really convenient and not allowed but we had a great time eating our breakfast together.
After the lovely breakfast we headed back to the park and pay the entrance fee in the visitor's center which happened to be a souvenir shop as well. There was also a 3D model map of entire Muir Redwood Forest that can be found in the middle of the open walkway going to the visitor's center.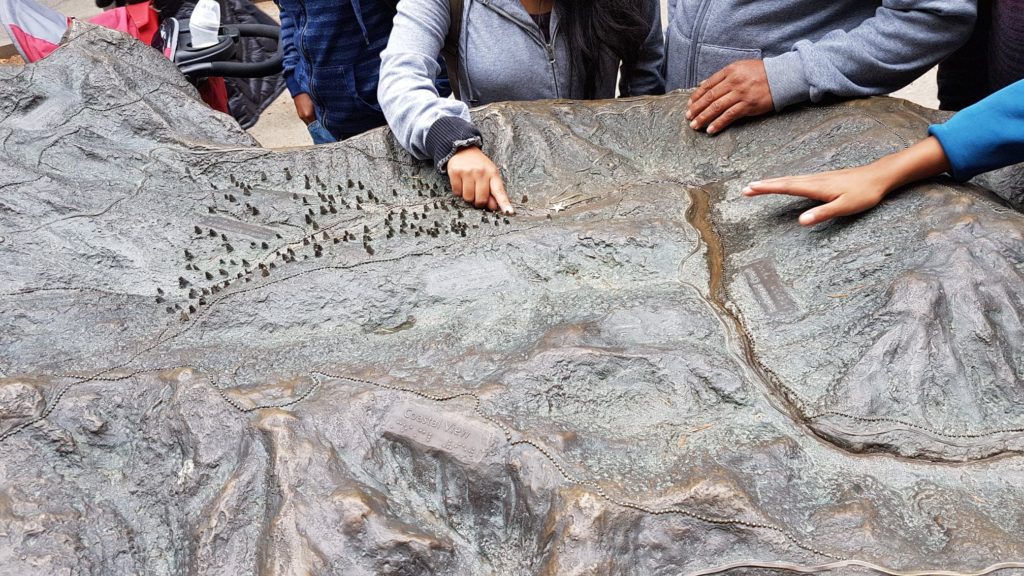 Admission fees: $10 for adults 15 yrs.old and older, while younger than 15 is free.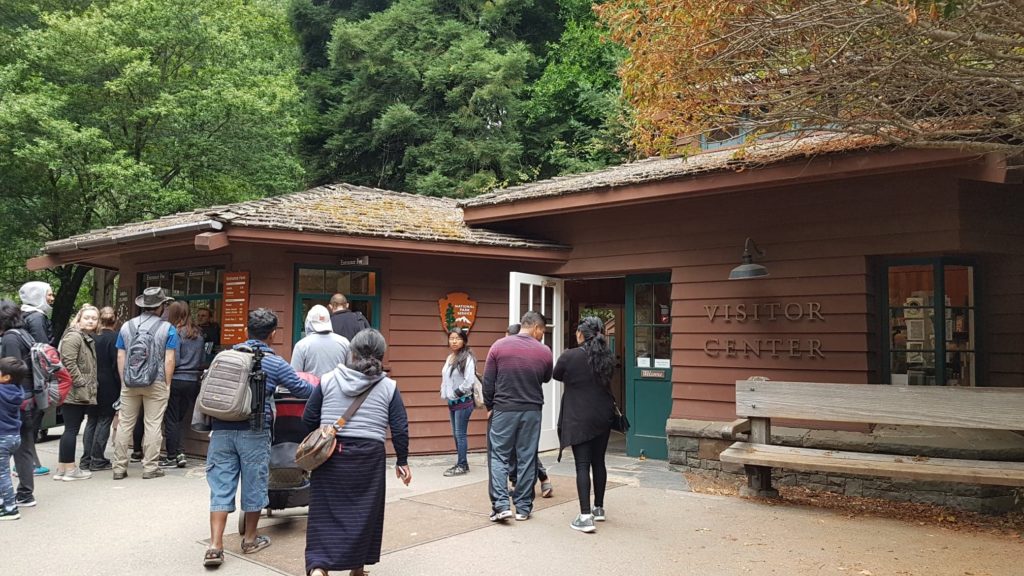 Muir Woods Redwood Forest (The Park Proper)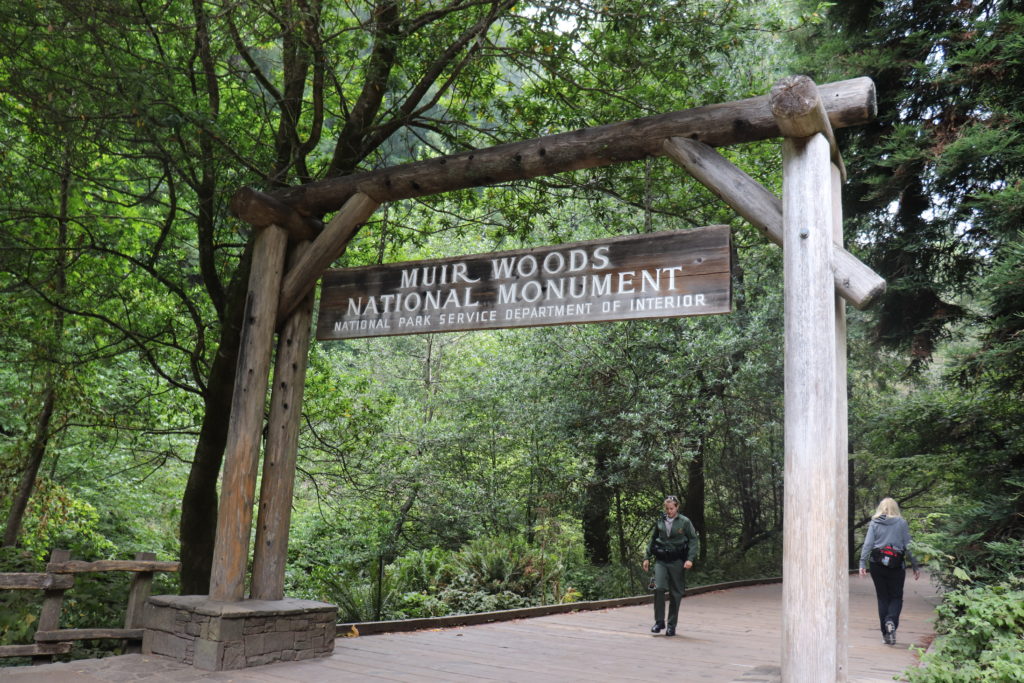 The ancient giants of Muir welcomed us as we walked through the gate of Muir Woods National Monument. Redwood trees stood tall and huge in the atmosphere of Muir. The scenery was so lovely and perfect, it was serene and peaceful. Here at Muir Woods, nature never really failed to amaze me with its unique and endless beauty! As an immigrant in U.S, it was my first time to see redwood trees, I was stunned of how these giants grew enormously big and how they survived over a hundreds to thousand years!
There was a long paved wooden trail, boardwalks for visitors to walk through. There were a lot of people yet it was not crowded. We stopped by to some spots where a ranger talked about the forest and shares facts about redwood trees. It was fun and informative that even our baby who was seated in her stroller smiled and clapped her hands as everybody clapped after the talk. Walking through the wooden trail was smooth and easy, it was stroller friendly too. But when we're about to take a slope and took a hike into the woods, our baby needed to be in the carrier or be carried by one of us. It was not advisable to bring the stroller to that area because it was a rough road but we managed and it was not that bad.
Redwood trees stood like the tallest guards of the forest. Its body was big and the bark which is the skin of this tree was thick and solid. The trunk of redwood trees grew so tall which makes the branches and stems be hidden all the way up in the fog. There were also some fallen trees and some trees that has burned black marks in its bark. Some trees has big holes in the middle of its trunk like big doors where you can pass to the other side or take pictures as if you're inside the tree.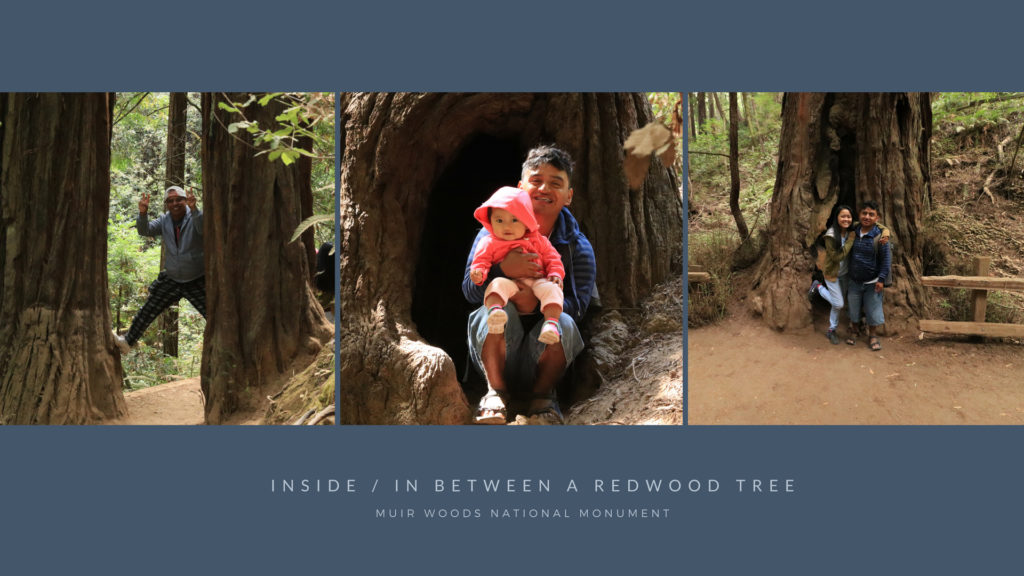 Some has big burls which at first we thought were bee hives or something made by insects and some has green algae in its bark.
We've seen small bridges (4 in total) that crosses to the other side of the loop, this is the way if you want to take a little adventure, a route for hiking. Muir has three trail options which are easily accessible from the main trail and these are the half mile, one mile and two mile loop. It all depends on your stamina how far you can hike.
BEST TIME TO VISIT
Plan ahead and travel early in the morning. The earlier you get there, the better! Better chance to enjoy the serenity of nature early in the morning and get the most out of your adventure! Less people and more time!
WHAT TO WEAR
In the morning, its still foggy so a little bit cold, its best to wear sweater's or jackets, wear comfy rubber shoes and pants for the hike!
WHAT TO BRING
Its helpful to bring some food and drinks with you in the car in case you get hungry but be reminded that food is not allowed in the park. You can eat in the car before venturing out to the woods or after the whole day of hiking or get some snacks to the small cafe they have in the park!
If you can also download ahead of your visit the Booklet about Muir Wood National Monument, it would be a plus. You will learn all facts about redwood tress and the environment ahead of time or you can get a copy of it in the visitor's center if you're already in the park.
When traveling with babies or infant, stroller and carrier is a MUST!
FOR THE MEMORIES
Aside from the bunch of photographs you will surely take inside the park, don't forget to stop by the souvenir shop/ gift shop, there are lots of wood carved souvenirs or shirts with redwood tree prints!