Two months ago, I decided to drive for Doordash in Vallejo. Despite of the negative reviews I read about this app online, I still wanted to give it a try and experience it myself. I wanted to know if I can really earn decent amount of extra money in my spare time just doing food deliveries.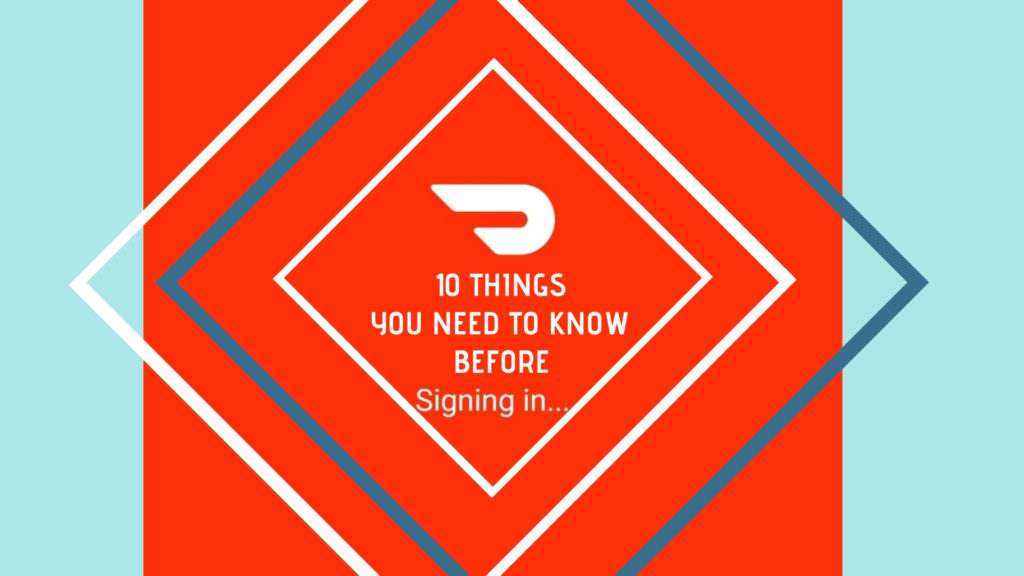 WHAT IS DOORDASH?
It is a food delivery app. just like Grubhub, Ubereats and Postmates. It's another way for drivers to make extra money just by picking up food in restaurants and deliver them in the doorsteps of the customers. It's been well advertised in social media and it became an on demand food delivery service among students and employees. If you are looking for a side hustle or a side job and you are willing to make money through driving, will you take a shot becoming a doordash driver?
Well, here are some of the things YOU NEED TO KNOW on becoming a "dasher" (doordash driver). These are all based on my experience after being a registered dasher for months. These are all based on my opinions and thoughts to give you ideas about what to consider before driving with doordash.
10 THINGS TO KNOW BEFORE DRIVING WITH DOORDASH
Check if doordash is available in your country or location. Doordash is mostly available across United States and you can check your location in their official website. 
Most dasher's only earn an average minimum of $6 per delivery or per trip. And in an hour, dasher's only make an average of 1 or 2 deliveries depending on the demand or how busy the area is.
As a driver, you are responsible for your own expenses including gas, car maintenance, insurance etc.
Some deliveries will require you to place the order in the restaurant and pay the food yourself  using the red card that doordash will provide. It's an additional work and longer waiting time.
The insulated bag that doordash provides will be delivered separately after you received the doordash red card. It is not necessary to bring the bag at all times since for me, it's more convenient without it. However, as a responsible dasher, it is recommended to have the food inside the bag so that it will remain hot and fresh upon delivery.
There are high demand of orders during rainy days so might as well take advantage of it! You might receive 2 orders at the same time.
Make sure to have your phone all the time and have your charger as well in your car. There will be times where you have to call or text the customer if you have any questions about their food or if you are delivering in apartments where it's hard to find their address or any issues you may have during delivery.
Don't always go to places where the doordash app said to be "hotspot or red zone" because based on my experience, order opportunities in these places are very slow, it might take you an hour to receive just one. Stay and wait to places where there's a lot of restaurants around.
Dash during peak hours like lunch and dinner. Doordash often offers additional tip per deliveries mostly between 11-1 pm lunch time and 4:30-8:00 p.m dinner time. But bare in mind about the conditions or terms on how you'll be entitled for that additional tip. According to doordash, you must accept 80 % of the delivery opportunities assigned during the said time period.
Learn the art of declining orders. Always check for the total mileage you will consume, the kind of restaurant and how much will you earn in a particular delivery before accepting an order. Consider each of these things so you will know which one's to accept or to deny. You also have to be aware of your ratings, if you keep on denying orders, your acceptance rate will be affected drastically and it's hard to gained it back.
PROS
The advantage of driving with doordash is that you are you're own boss and you get to choose your own schedule.
The application is easy and the app is easy to understand and easy to use as well.
Compared to other delivery apps like postmates, in doordash you don't have to worry about the customer's receipt, you just have to make sure that you checked all the orders in the app.
Also, the delivery fee that doordash asked among its customers all goes to the driver, this way dasher's earn a minimum of $6 per delivery excluding extra tips.
Another pro about being a dasher is that you can bring a family member with you while you're doing the deliveries. One can be the driver and the other one can pick up to the restaurants and drop off the food to the customers.
CONS
One disadvantage of being a dasher would be not earning enough despite all the expenses that you make from  your car mileage, gas, maintenance and etc. It can't be a full time work since the earning is too low.
Another con is the waiting time for orders, it's based on luck how busy a day gets. Sometimes you have to park and wait for a long time just for a single order to come.
There will be times where you receive an order that has not been placed or paid  at the restaurant yet, so this will be an added work for you and additional waiting time. In my experience, this only happens more often in fast food restaurants. Most of the orders I received was just pick up and drop off.
Sometimes you have to drive long mileage just to complete the delivery and get that extra tip during peak hours.
Doordash customer's service is not a lot of help and slow to respond. There will be instances where customer's ask to drop off their orders in a different address but then you won't be able to complete the delivery unless you go to the address they stated on the app. Since doordash app monitors your location through gps, to complete the delivery, you have to contact customer's support and explain that you delivered in a different location.
Above all, it was a good experience and even though it doesn't pay much, doordash is a decent way to earn extra income. If you could do other delivery app such as Grubhub, Ubereats or Postmates, 2 at the same time you will probably earn more per hour. Good luck on your adventures! Happy dashing!