It was our first time to experience an international travel having a toddler on a plane going to the other side of the world, in the Philippines. Although we knew how hard the travel would be, we still wanted to go for it was also the wish of my Mom who longed to see her grand daughter for the first time. When my husband and I both decided to spend our summer vacation in the Philippines, we thought that it was a perfect timing for Mia to enjoy the beauty of the country and at the same time to meet other family relatives who lives there such as her grandma, great grandparents, auntie's, uncles and cousins.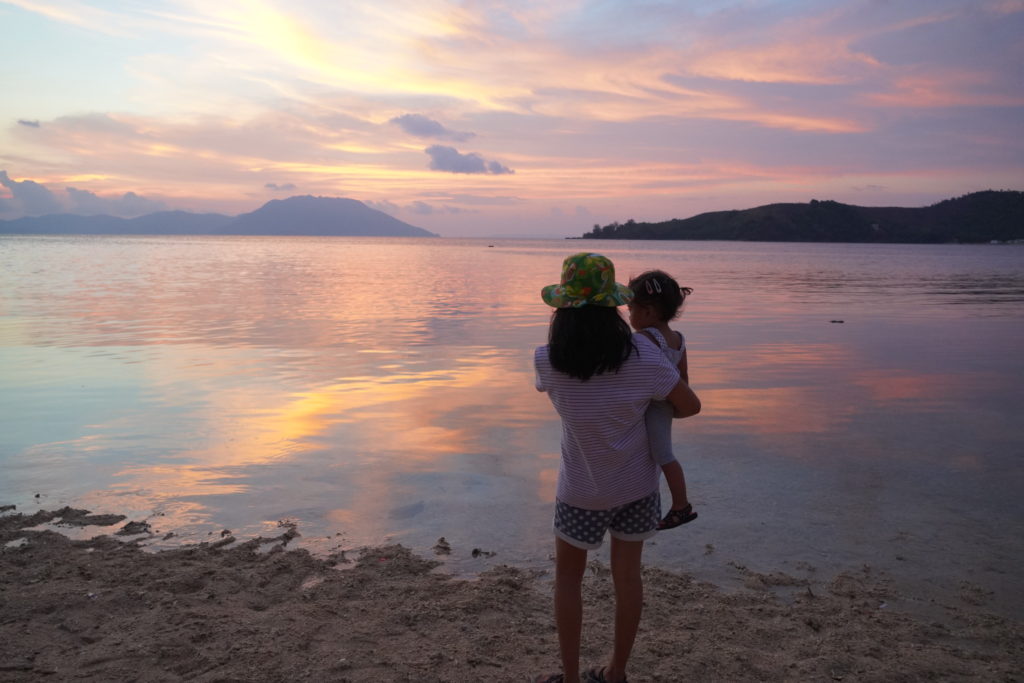 It was our first family vacation in Romblon, my island home. We stayed for more than 2 weeks and we explored places as much as we could. Listed here are places you can visit with your whole family once you visit Romblon, Romblon in the Philippines. It's a short easy travel guide that gives you ideas on where to go with your whole family once you visit this beautiful island. You can also visit my previous post about Romblon for more travel destination!
ABOUT ROMBLON,ROMBLON
It is the capital of the province Romblon in the Philippines. It's one of the three main islands comprising the province aside from Sibuyan and Tablas islands. It is the center of marble industry of the country and also most popular among tourists for its unspoiled white sand beaches.
Natives or locals of Romblon are called Romblonanons. Since Romblon is part of Visayan ethnoliguistic group, locals have their own Visayan dialect, like how wikipedia described it, the dialect is called Ili, its mixed hiligaynon and cebuano.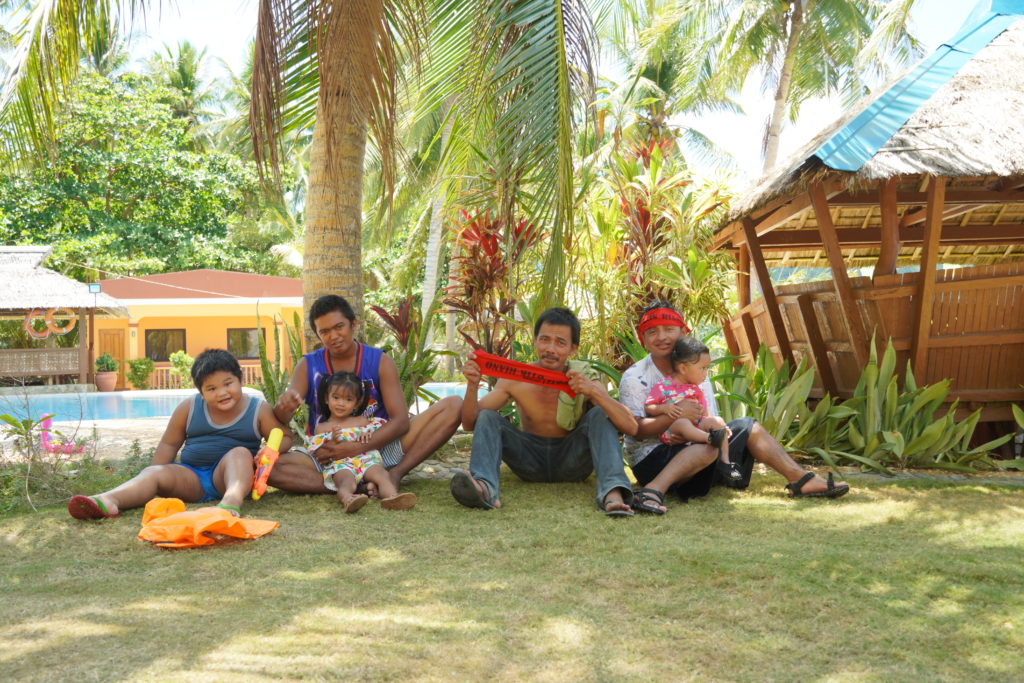 Summer season starts in April and peaks in the month of May. Rainy season starts from June onwards. Highest temperature would be during summer in May, where it can peak up to 38 degrees Celsius or a little higher than that.
HOW TO GET THERE?
One of the main transportation that you can use to get to the island of Romblon, Romblon is through a RORO vessel in Batangas Pier or in Lucena. Vessels are from 2go travels, Montenegro Shipping Lines, Navios Shipping Lines in Batangas and Starhorse Shipping in Lucena. Please refer to their official websites for trip schedule. Travel time is approximately 7-9 hours depending on the speed of the roro vessel and the weather.
Or if you wish to take the plane, the only airport close by to the island is in Tugdan, in Tablas island. You can take a jeepney from Tugdan to San Agustin where you can catch another RORO vessel going to Romblon, Romblon.
WHERE TO GO?
BEACH HOPPING
1. Bonbon Beach- Brgy. Lonos
Bonbon Beach is the main tourist attraction in Romblon, Romblon. It became the most popular beach among all the white sand beaches in Romblon because of its long white sand bar that extends to Bang-og island. It has a fine white sand with calm waters and clear shore, best for swimming or diving.
For you to get there, you can rent a motorcycle or ride a tricycle going to Brgy. Lonos, probably it's about 10 minutes away from the main town. As of the moment, the beach is open to the public free of charge, you can enjoy the beautiful beach during sunrise at 6 a.m until sunset at 7 p.m.
The views are amazing and extraordinary during sunset, when the weather is good and calm, the skies are filled with vibrant colors. There are also less tourists during this time so you can really enjoy the nature and the quiet environment.
2
2. Lamao Beach and Restaurant- Brgy. Lamao
Located opposite way from bonbon beach is going to Lamao, which is at the other side of the island. Here lies a beautiful and relaxing resort with a swimming pool overlooking a nice white sand beach close to a small island called Puyo. There were coconut trees which provide shades in paved walking pathway going to the pool and towards the beach.
Lamao Beach Resort and restaurant is privately owned and an entrance fee is required upon entering the property. Entrance fees vary depending on age , adults is 70 pesos ($1.5) per head and kids is about 40 (>$1)pesos for each. There are also nipa huts for guests to rent for short time visit and for longer stays as well. For shorter visits, the large size hut costs about 500 pesos ($10) and 300 ($6) pesos for the small ones. They also have an accommodation if you wish to stay for more than a day, you can choose between air conditioned rooms to a regular one that has only a fan.
Guests are allowed to bring their own food inside. But if you wish to grill and barbecue you can also rent a griller and buy charcoal in their mini store.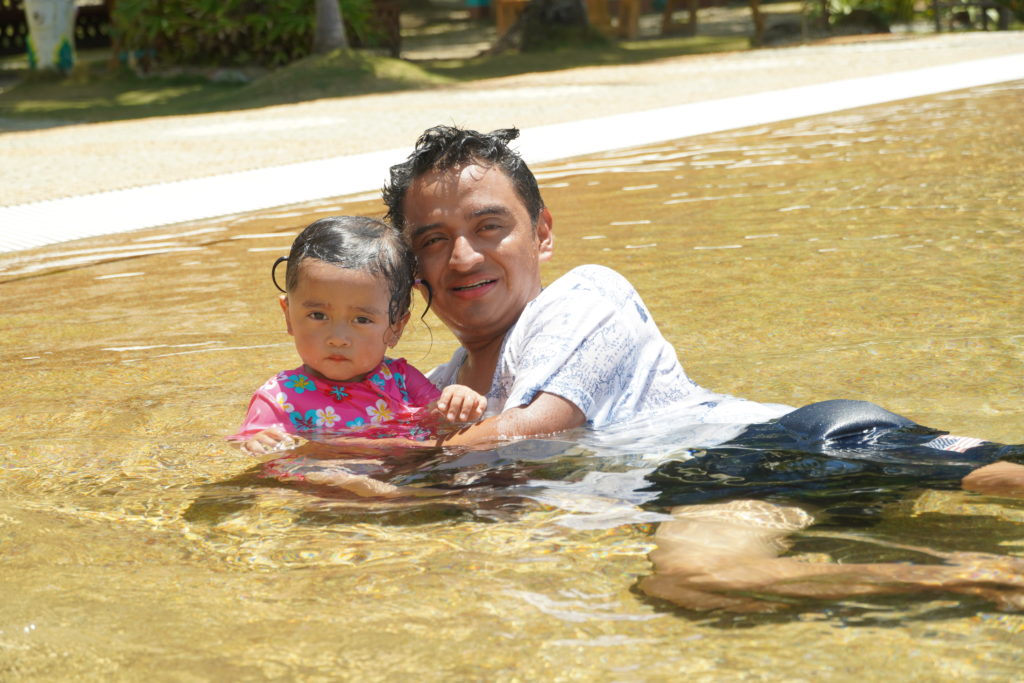 The road going here is quite steep but once you're there the experience will be worth your travel! For your convenience, you can rent your own motorbike or tricycle if you want to tour the whole island.
3. Nonok Beach, Brgy. Lonos
3. Nonok Beach- Brgy. Lonos
Nonok beach is a small yet a very nice private beach that has pristine beauty of the ocean and fine white sand. Entrance fee is 50 pesos ($1) for each adult and less for kids. They offer several amenities such as air conditioned rooms, tree houses, huts, tents, tables, water slide and even boats or kayaks for guests to rent.
This is the place we visit most of the time since it's only few distance from our house in Romblon and it's easily accessible, its just beside the main road.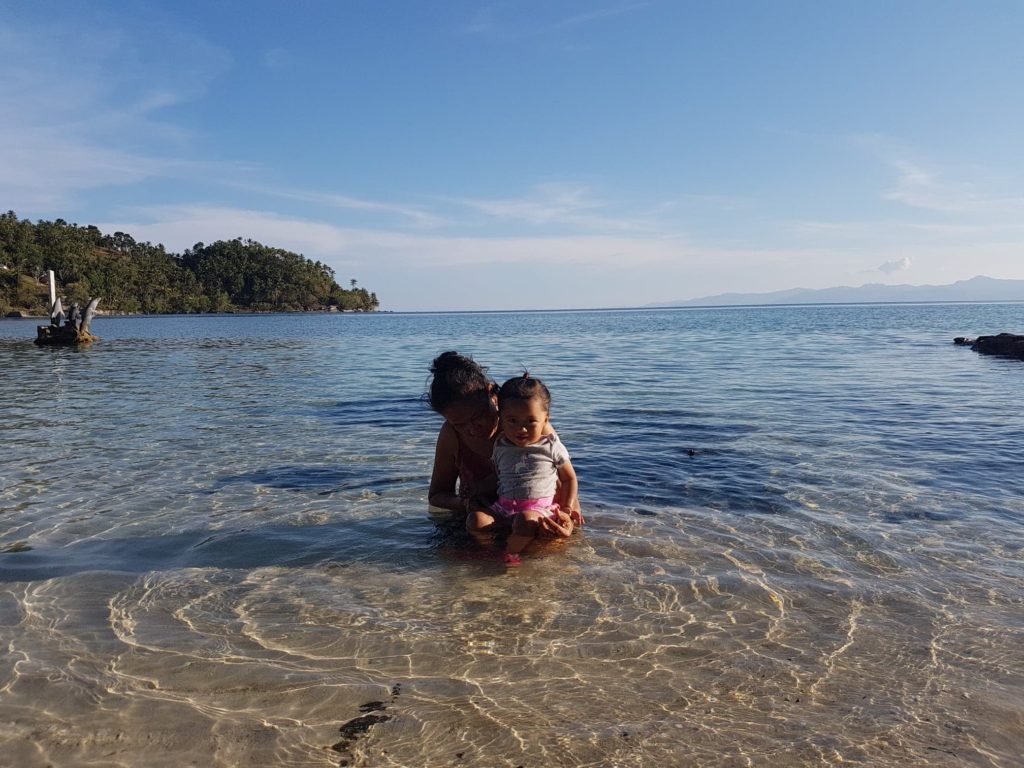 Mia loved being in the water and play in the sand. She also enjoyed her time with grandma when they both go to swim every afternoon before sunset. It's the perfect spot to relax and cool off while having some precious time with your loved ones during sunset.
4. San Pedro Beach in Talipasak
San Pedro beach is located in Talipasak, Romblon, it is a family owned resort which has been open to the public even before Romblon became a tourist destination. It's a little far from the town, almost about 20-25 minutes away drive. It's a best getaway for people who want more peace and more tranquility of nature. Since it's privately owned, guests or visitors also pay entrance fee worth 50 pesos ($1) per person.
Nipa huts are also available for guests to rent if you wish to stay overnight or for a few days. There's also a big restaurant where you can order food and drinks.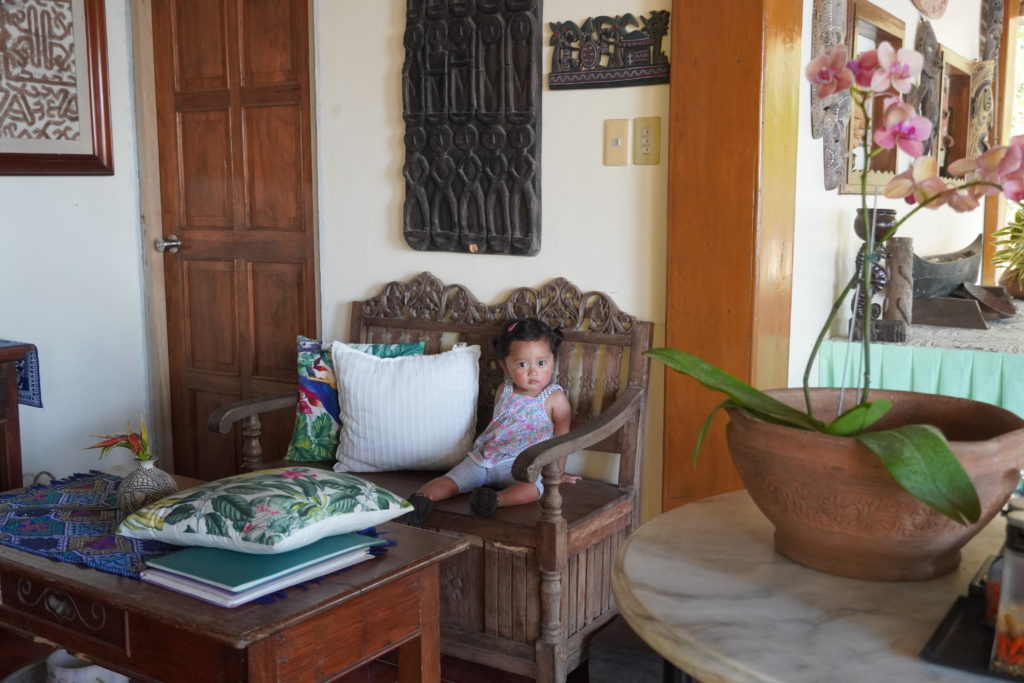 I remember before during my childhood days when my Dad used to take me with his foreigner friends to tour around the island, San Pedro beach will always be one of our destination. Our recent visit reminded me of the old times, nothing really change at all. From the classic look of their restaurant, the quiet environment, the beautiful view of the beach and the hammocks, it brought back a lot of memories.
5. Cordova's Resort, Brgy. Ginablan
5. Cordova's Resort- Brgy. Ginablan
About 30 minutes away from the town of Romblon, Cordova Resort lies almost in the border of Brgy. Ginablan and Brgy. Agnipa. This is also a privately owned resort with an entrance fee that costs 50 pesos ($1) per individual. The resort features a small pool for swimming and a display of different marble structures of animals and other gigantic human like marble figures.
There are amenities such as huts or bungalows and set of table and chairs for guests to rent. They also have air conditioned rooms for groups or families who wish to stay for an overnight or for a longer stay. Kindly refer to their facebook page for more details.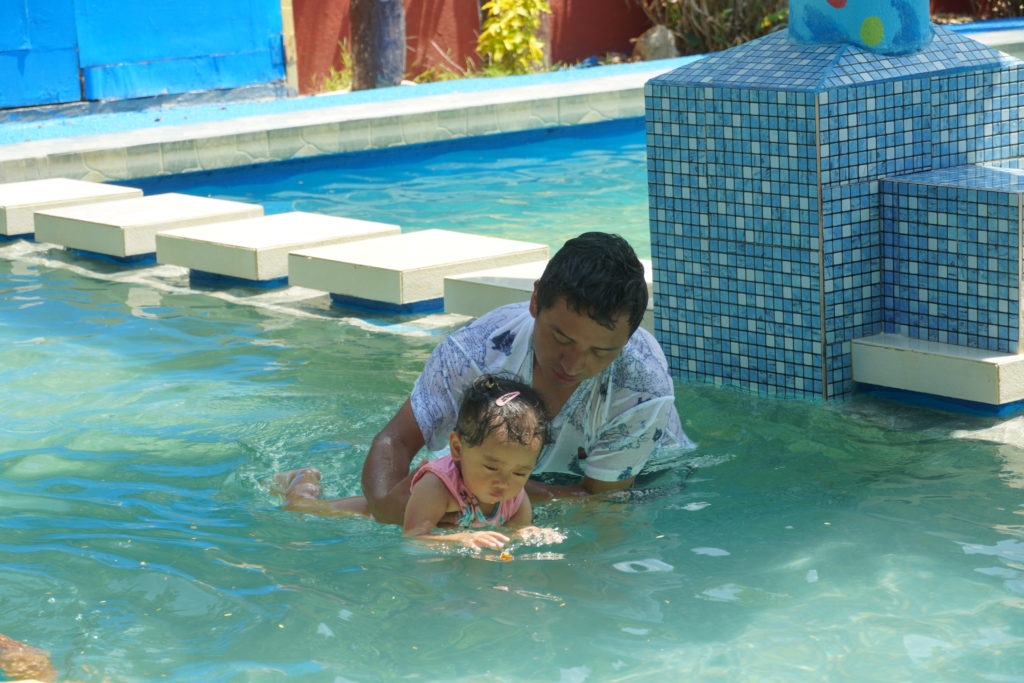 The most interesting to see in this place are the different marble structures in display from the entrance way to the beautiful garden all the way to the swimming area. The arts and craftsmanship of Romblamanon artists are truly amazing.
Hilltop view road to windmill
Aside from beach hopping, you can also do island hopping which is of course a more exciting adventure for your whole family! There are more to explore and way more to experience in this beautiful island, please do read my other blogs for more!