2nd PUMPKIN PATCH IN LARRY'S PRODUCE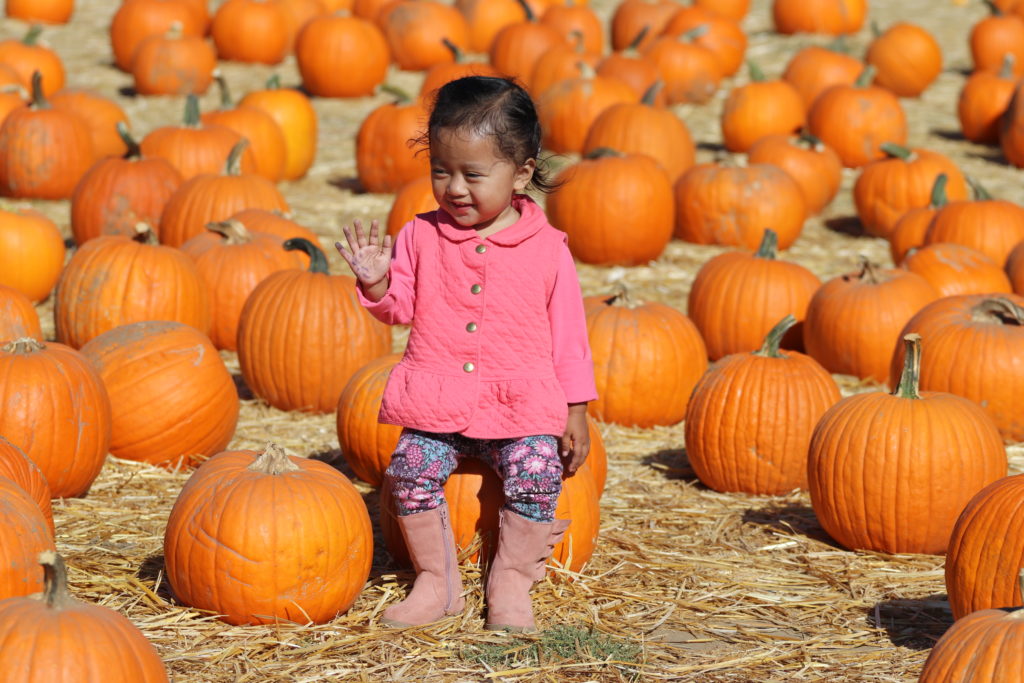 Mia's first pumpkin patch last year was a fun experience for all of us that's why we decided to make it as part of our family culture and an annual tradition. She had seen giant pumpkins for the first time and played in the stacks of hay and corn kernels at Larry's Produce in Fairfield.
We are so happy to bring her there once again this year for her 2nd pumpkin patch, this time with other kids from Nurse Family Partnership!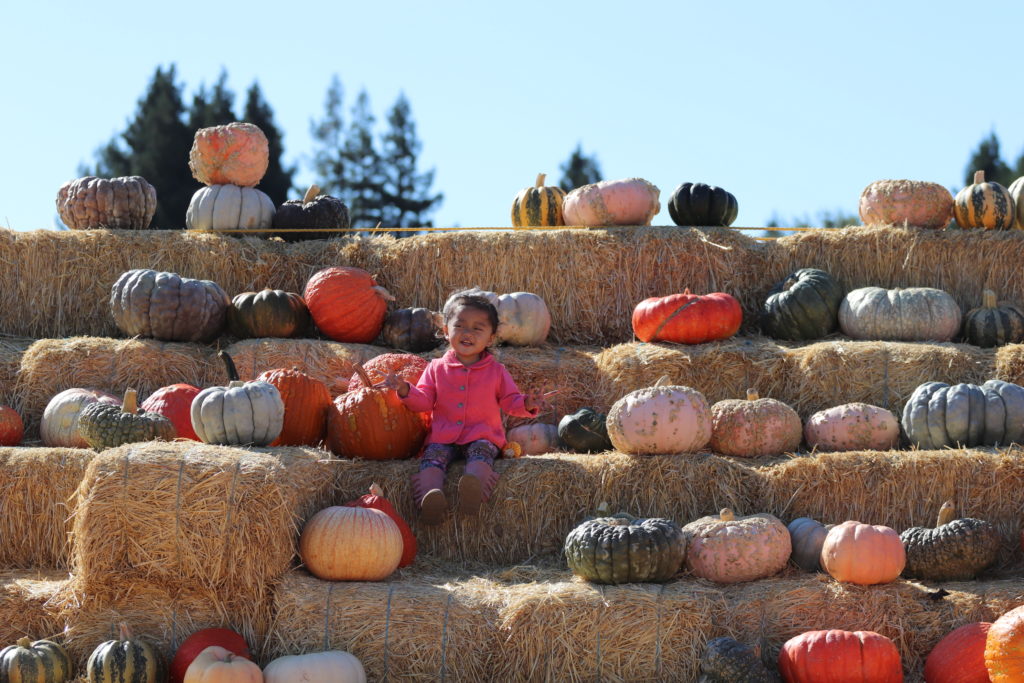 Stacks of Hay and Pumpkins at Larry's Produce, Suisun Valley Rd. Fairfield
ABOUT LARRY'S PRODUCE
Owned by Larry and Lisa Balestra,  Larry's Produce is known to be one of the best sources of fresh fruits and vegetable in Suisun Valley. One refreshing getaway located in Fairfield California with varieties of fresh options at an affordable price! It's a local favorite for a wholesome family pumpkin patch experience!
The farm is open almost seven months in a year from June to December and welcomes customers from 9:00 a.m to 5:00 pm daily.
We were invited by Nurse Family Partnership to Pumpkin Patch this year, they set-up a place exclusive for the family who are enrolled in the program. They have a little activity area for kids to do some art work with the pumpkins and a food stand for every family to share with.


It was nice to see other families who were with their little kids having fun and enjoying each other's company.
Indeed it was a perfect day! The farm has the perfect vibe for pumpkin patch with all the varieties of pumpkins in different sizes and colors. We all had fun especially our sweet dearie, Mia had a blast! She played with other little kids and enjoyed every activity with them.
Things to Know Before Your Visit at Larry's Produce
Remember to bring cash since they only accept cash no cards. (But they have atm machine available too for your convenience)
Customer's can pick up fresh fruits and vegetables from the farm so if you want to do this don't forget your shoes.
They provide shopping carts and wheelbarrows but it's always advisable to bring your own bags.
There are food trucks and food stands too available in certain times.
Parking might be a bit busy during weekends so come early.
Kids Pumpkin Patch Activities
Activities were the same as last year except for the pyramid of hay with pumpkins display right at the center of the farm. This year they have different arrangements, it was pretty easy for kids to play and run around and for parents to take pictures of their little ones.
 1. Giant Pyramid of Hay and Pumpkins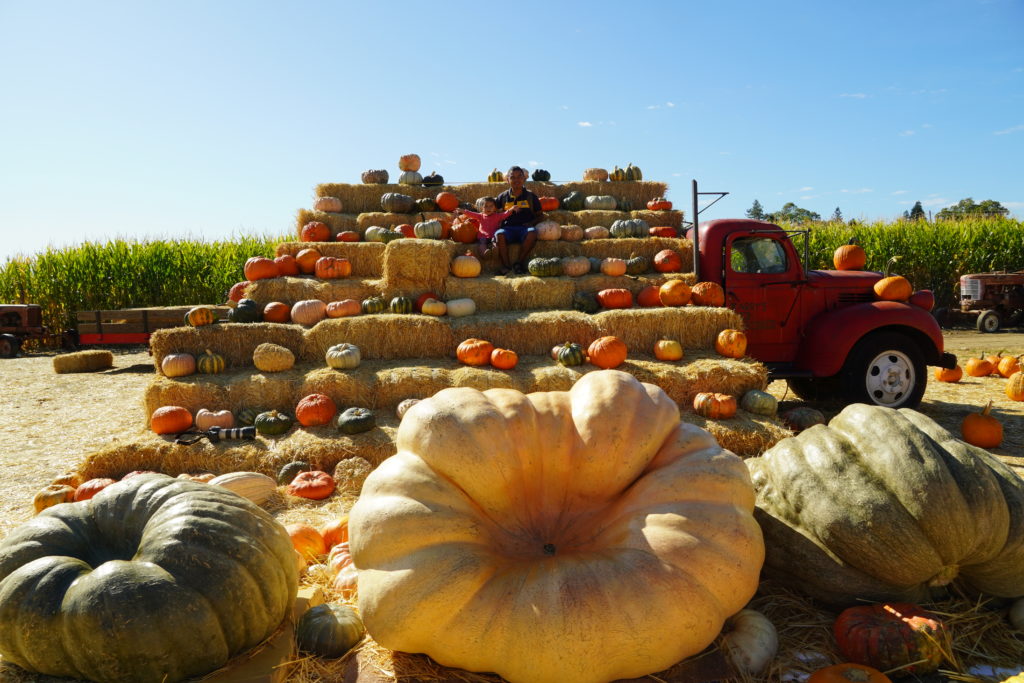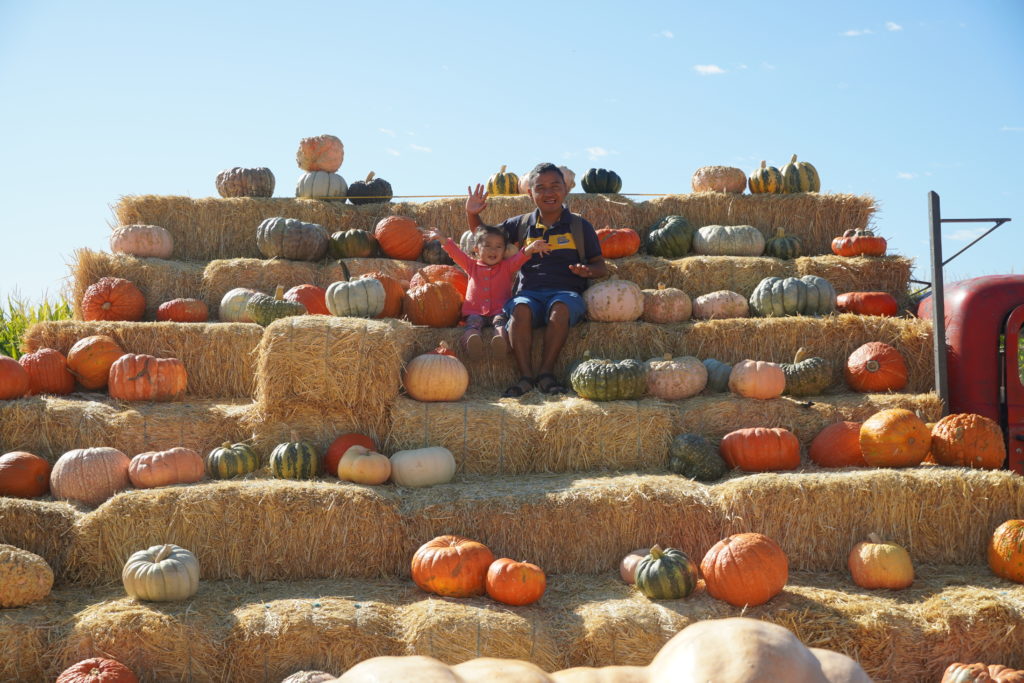 How cool is this pyramid?! It was for sure the center of attraction of the farm, the main spot for everyone's perfect pumpkin photoshoot! Mia stood happily and full of excitement as she waved her hands for pictures, she was so amazed by its height and the pumpkins sitting on top of it.
This was absolutely a great idea since it captures the interest of more families to come back again for the next pumpkin patch!
 2. Ride in An Old Farm Tractors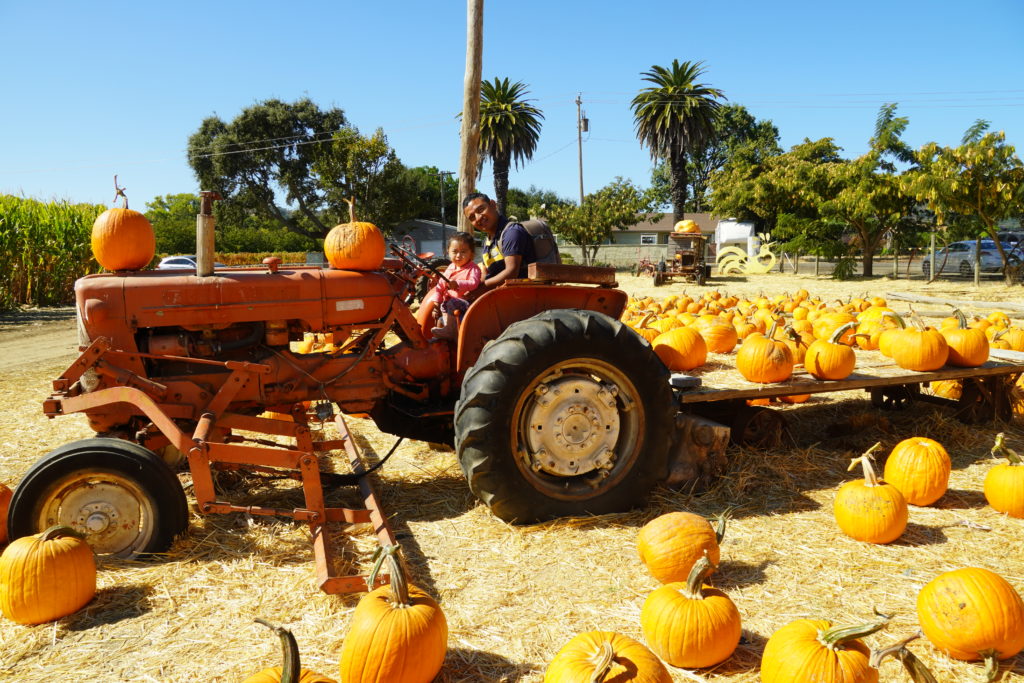 These old farm rides were only for displays, each was designed for pumpkin patch. We're not really sure if they're still working but they have stacks of hay and pumpkin displays perfect for kids pictorials!
The Nurse Partnership arranged a tractor ride for all the families who attended the activity, it went around the corn field and all the way back to the pumpkin farm. We seated at the first seat next to the driver and as we moved along Mia pointed out the big wheels of the tractor and says "wow" as it made it sound.

 3. Run Around the Corn Maze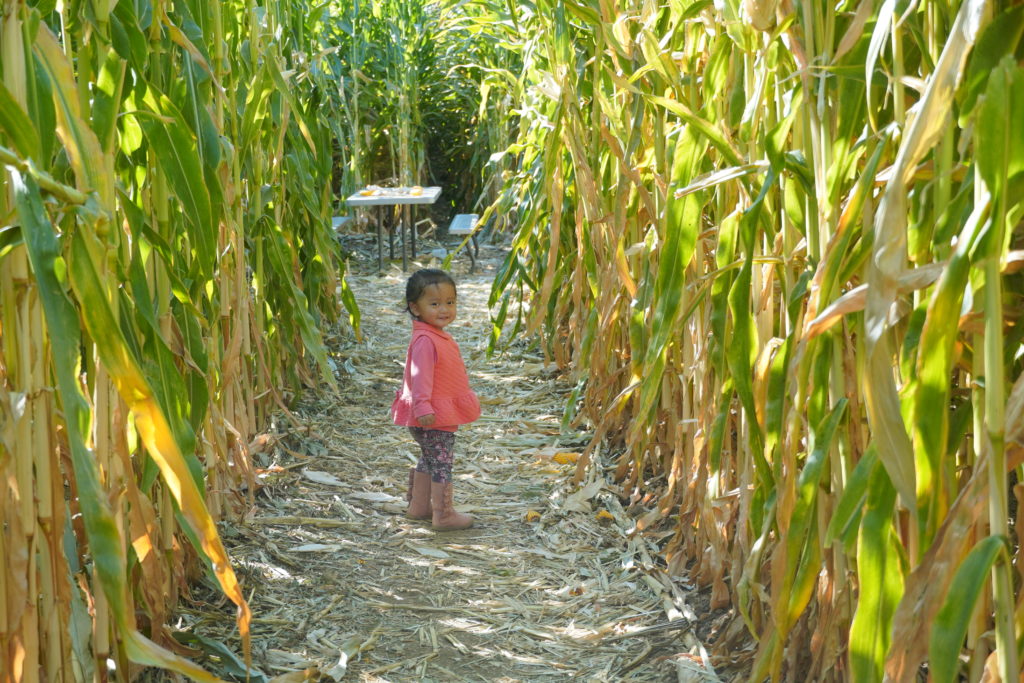 This was one of the places that families love at Larry's farm, a perfect place to chase their little one in the corn maze! Mia didn't have the chance to play here last year since she was very young at that time but this year she had fun!
At first she was hesitant but when her Papi (Dad) pretended to be a dinosaur and chased her in the maze, she runs as fast as she could. It was a fun play time in the corn field!
 4. Corn Kernel Play Area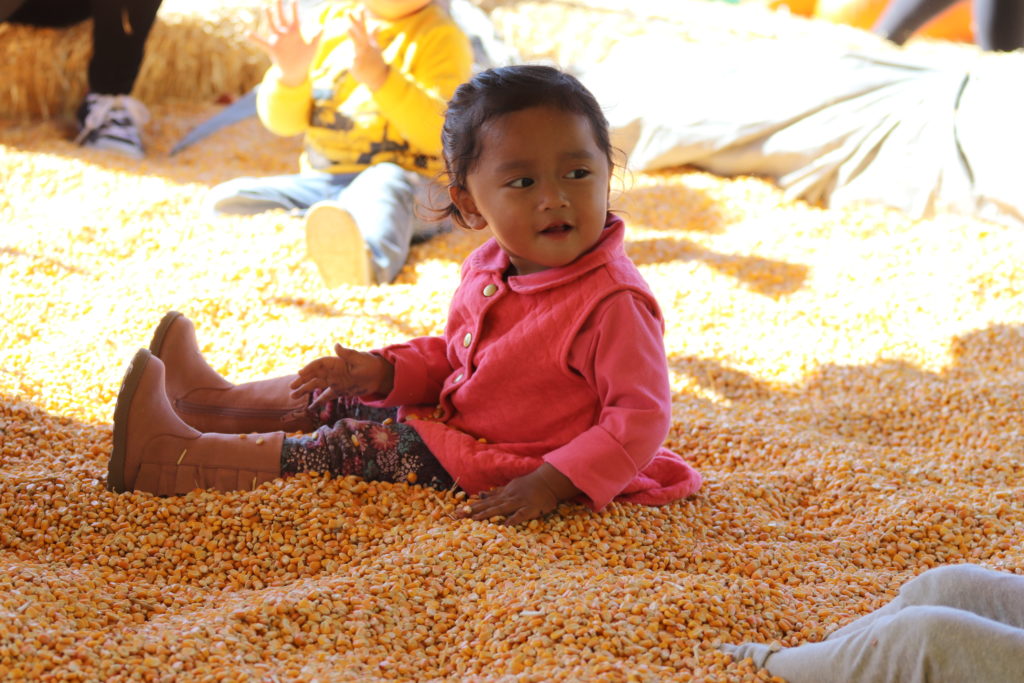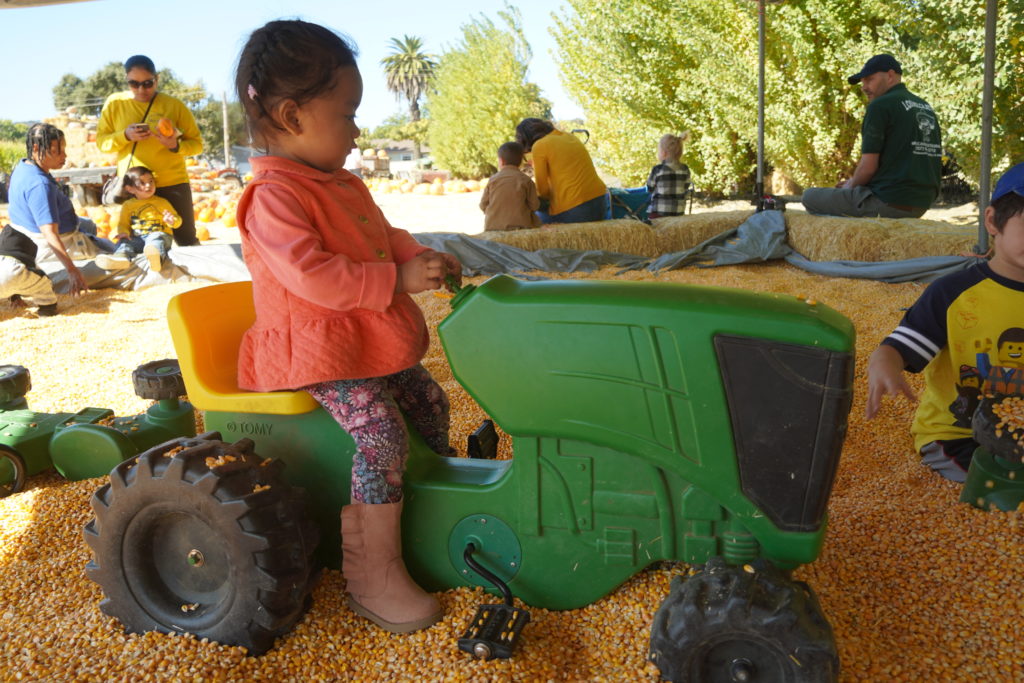 Another favorite spot for little kids is the corn kernel area where you can find small play tractors. Most of the little ones from nurse family partnership stayed here longer than any other activities. Kids loved swimming on top of the grains and hide their little toes and legs underneath, just what Mia did.
Each of the little ones took turns to play and ride in the small tractors. Mia waited for her turn and when she took her chance she didn't want to let go of it until she saw the slide!
5. Climb the Hay and Slide on a Big Tube
This slide was not as slippery as an ordinary slide, it was a customized slide made from a big tube on top of hay stacks. Kids climbed the hay to reach the top and slid down to the corn kernel area.
Since our sweet dearie is so fascinated with slides at this age, this was her most favorite out of all the activities. After she had gone once, she asked for more!
6. Colors of Different Types of Pumpkins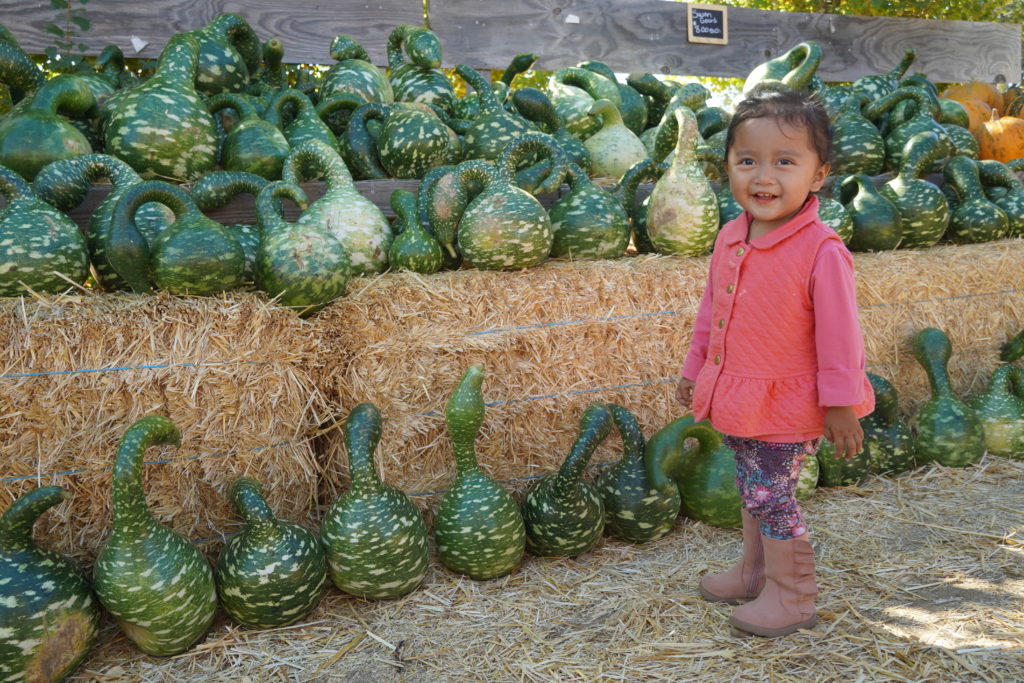 Another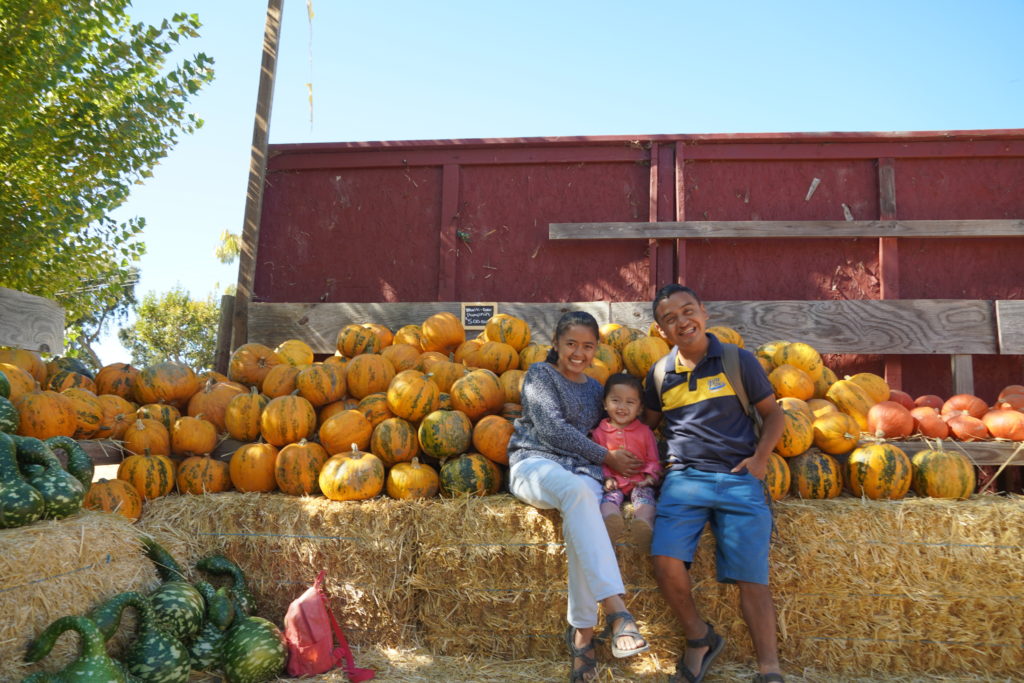 We visited 2 farms this year for Mia's Pumpkin Patch, here at Larry's and at Clayton Valley Pumpkin Farm and Christmas Trees. I made two separate posts for each since we had a lot of pictures! But I would really recommend Larry's Produce than the other since they have a lot fresh options in an affordable price and most of their activities are free!
This year was another wholesome family pumpkin patch experience at Larry's Produce! This place never disappoints us, we'll surely visit again next year!
Do you have the same tradition like us? If so where did you celebrate pumpkin patch this year?