#SIBLING GOALS
We may have seen a lot of travel posts of friends with photos tagging their girl/boyfriends or their whole family. Some prefer traveling alone. It is unusual to see siblings hanging out and posting photos with captions #siblings goals. I know there is an endless list of benefits of traveling with siblings, but I would just like to cite some in this article.
My elder sister, younger brother and I decided to explore Japan, our first adventure outside the Philippines.
ONLY ONE VISA APPLICATION
This was the first thing that granted us the advantage of traveling with sibs. We had our visa application through the Reli Tours branch in SM North EDSA.
Just a reminder, you can only apply for a Japan VISA via an accredited travel agency.
Since we have the same last name (obviously), we decided to have one application and the Japan embassy had no worry approving our visas, given that we submitted all the required documents.
The agency told us that even only one of us can process the application. There was no need for all of us to show personally. And I felt confident that our VISA will be approved 100% because there was no other assumption the embassy could have why we are flying to Japan other than tourism, right?
I mean, the embassy just needs assurance that the applicants will be going back to the country and what could three siblings who obviously can't stand the winter be doing in Japan?
OUR JAPAN ADVENTURE!
SHARE EVERYTHING, SAVE MORE
We arrived in Japan and took a rest in a single-room apartment in Lahaina Yuhigaoka Condominium, which we booked before our trip via AGODA.
If you are looking for a cozy yet inexpensive hotel and having no trouble in taking a 15min-walk from one of the nearest railway stations (Namba), then this hotel is for you.
We had no problem sharing in one room because we are comfortable enough with each other. This includes savings in our advantages of traveling with siblings. Not availing another room saved us a few yens that could be traded for some delicious ramens (see it rhymes?).
Those ramens could also be shared by us, but it didn't happen just so you know. We all love ramen and you may call us whatever you want but we are not sharing, dear. Also, we could share our other belongings like clothes, toiletries to name a few.
SAME ENERGY AND SIMILAR WANTS
From the hotel, we also just walked our way to Shitenno-Ji Temple. I believe moving by foot was the most underrated part of our tour in Japan.
Those long walks helped us appreciate more how clean the Japanese streets are, how cool the architectural designs of their houses are, how refined the residents are, and how rich their culture is.
All these tiny details, above all, were the reasons why I always have the urge to go back to Japan. I even saw a Shiba-Inu, a rare dog of Japanese origin just by strolling.
Temples and other spots could be very crowded during peak hours but because we were minutes away from the hotel, we went there as soon as the sun rose.
We had the chance to capture memories by taking pictures without you know, the photobombers.
We also had the privilege to solo the hidden Japanese garden which I consider one of the highlights of our stay in Japan. We had no problem setting our own pace because we had no other acquaintance to consider.
Again, I want to emphasize that I was with my siblings only and not with our parents. We spent a day at the Universal Studios in Osaka.
Given my parents' age brackets (no offense meant Ma and Pa), we all can assume that no parent will enjoy the whole day walking and queuing that could last for over an hour just for a ride.
I think walking is already a part of the Japanese people. Maybe that explains why they have longer life spans.
DISCOVERING NEW THINGS
Traveling with siblings could also give you new revelations with your "since birth" buddies.
Only that time at the theme park I found out that it was my brother's first extreme ride. He hates heights. And in my sister's case, I just discovered that she was freaking afraid of heights and the dark.
We all burst into laughter when we rode a monstrous roller coaster because my sister was yelling the F-word nonstop. She even passed out a split second on-air upon reaching the summit of that one hell of a ride. That was so hilarious.
EASY TALKS ABOUT MONEY
One more important point is you can straightforwardly talk about money. You don't have to be conscious of dividing the bills in front of them which is sometimes difficult to do with your friends.
You could also borrow money from them easily. And if you are the lender, you don't have to worry that they will forget since you will keep annoying and reminding them even after the trip.
SIBLINGS WILL NEVER LEAVE YOU
Speaking of swearing, have you cursed a specific place because you went there with your previous lover? Worry no more; traveling with siblings doesn't apply here.
You can go back to any place you've been without feeling bittersweet or gloomy, right? As they say, you can choose your partners, but you're left with no choice when it comes to your sibs (sarcasm inserted).
Your siblings will never leave you alone even in the most embarrassing instances. Just like this one time when we visited the Osaka Castle at night to experience the so-called Lumina Nights.
During our stay in Japan, the weather was very unpredictable. The sun could be filled with life during the day and then rain poured at night.
So your conclusion was right, the next thing we know was we were already running with our lives to find a shade that night.
Luckily we spotted a vending machine that offered raincoats. It was our chance to experience wearing transparent raincoats and feel like we are some characters in an Anime show.
But we couldn't make the machine work! We had no choice but to call out for help. It's embarrassing. But thanks to that lady resident who came for us.
Man, she couldn't hardly understand English. We just explained it with hand signals. If there was a contest in charades, I could be a champion after our trip to Japan.
But the Japanese people were very helpful despite the language barrier. More of them came for us and helped us try to make the machine work but we had no luck.
Instead, the locals helped us to create a makeshift coat made with plastic bags. Our dreams of being Anime characters were shattered and we became Oscars of Sesame Street.
THE CON
The only thing that is bothering when traveling with siblings is the argument. The fact that siblings are too comfortable with each other, they tend to lose patience easily.
That moment when any of you start complaining? Boom! Domino Effect. The vibe will start spreading with the whole group.
Anyways, those moments are now laughing stocks when we are reminiscing our trip. Just like when we first arrived at one of the train stations, we were like first graders solving a calculus problem.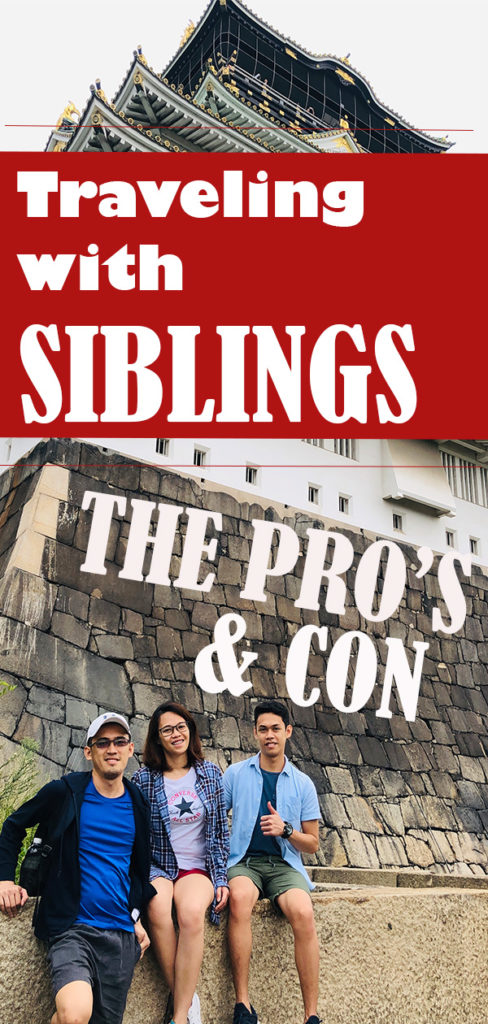 The railway system of Japan is so advanced yet complicated. We all installed JapanTravel, an application downloadable for free in the App Store that would help us identify the best route for a specific destination.
And guess what? Sometimes, the app gave us different recommendations. Imagine the chaos it caused us, given that we were time-constraint and starving.
Of course, short temper and hunger are partners in crime. We learned the system quite fast because of those arguments at least.
We experienced a lot of challenges. We couldn't control the turn of events but the important thing is we learn from those experiences.
With this kind of trip, siblings' bond becomes stronger and that, I think is the most significant advantage of traveling with our "original barkada".
It gives us better memories and a tougher relationship. We are looking forward to our next adventure in South Korea and I'm very much excited to share with you our next #siblingsgoal.