Help baby in his/her development by doing these fun activities! Not only will she learn to communicate but also help her grow and develop her motor, personal and social skills. In the early months of baby, parents play a big role in each aspect of her development, physically, emotionally, mentally and socially. It is the first months that marks the most in building the foundation of her skills. In my previous post, we discuss activities for your newborn, now that she is growing fast she will need more things to learn!
DEVELOP COMMUNICATION
Your new bundle of joy communicates through her body movement. While she grows and develop, as a parent you learn that each specific movement means something. Just like when she look or stare, whines, shout or cries. Although baby will enjoy different kind of sound within your household, your voice will always be her most favorite music, it will be the most comforting music in her ears. It is also important that you spend a quiet time together for she has to learn and enjoy each of the family voices too.
These are great ideas I wanted to share with you since it has been very effective for me and my baby. Develop her communication while enjoying special moments with her!
Music and Me
Hum or sing a song every baby's meal time, during bath, exercise or even changing. Allow some precious time looking at your baby's face and her watching your face as you sings her a song. Establish a connection with your baby through the song, include baby's name in the song every now and then.
Make Face
    It's always delightful to see baby's smile, make funny faces that he/she likes and when she smiles, do it again! Tell her how funny she is and how beautiful she is when she smiles!
Precious Talk
Talk to your baby when she's awake, especially when she's all in the mood to look at your eyes and giggles. As she sees your face, cuddle and hold her closer to you. Introduce different kinds of animal sounds and encourage her to do the same, this way you are both communicating and having a conversation.
Enjoying Books
    Reading time is essential for baby, showing her colors from different pictures in the book or magazine will be very interesting for her eyes. While she sees all those things, talk softly and share story about it. Soon baby will learn that reading time is very special.
Hello, hello Telephone
    Your little wonderer will be curious at all things specially with sounds and light like when your phone rings and lights up. She will be amazed and be interested listening and watching you while you talk on the phone. Hold baby close to you and look at her, she will think you're talking with her or your talking about her and that she's special.
ACTIVITIES THAT ENHANCE FINE MOTOR SKILLS
By this time you notice that baby is learning to be more focus on things like how she looked on objects and to other things around her. In due time she will be able to follow her eyes as you move an object in front of her or as you move around her. Unlike before when baby was just a newborn, her fists were closed all the time but around this months she will learn to grasp your finger and hold on tightly.  These following months she is beginning to be aware about her environment and the world.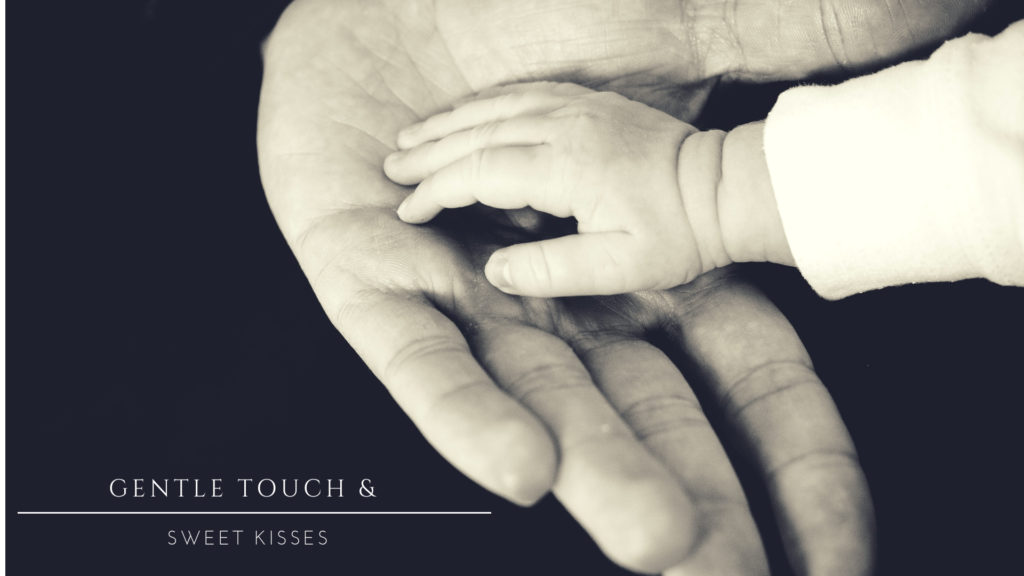 Little Finger Hold and Grip
As baby grab your finger and hold a grip on it, gently tug a little to let her know that she's holding your hand and that she's growing strong everyday!
Reach and Grasp
    It is important to put baby lying on a firm surface so she can be able to learn the skill of crawling. But during this time she can learn the ability of reaching to things, offer baby an object or a toy to reach and grasp. You will be amazed by her excitement as she move her arms while trying to reach that object.
Gentle Touch
Give baby's little toes and fingers a gentle touch or massage. Rubbing her little body parts with lotion or baby oil will make it very special. Baby will surely enjoy the feeling, it will relax her and she will feel being comforted too. Also, it will help her learn about her body.
Little Hand Sweet Kisses
During baby's meal time, hold her hand and kiss her little fingertips. Let her touch your lips, if she's not yet doing it at this age, encourage her to touch it so that soon she will learn how to aim her finger towards you.
Baby Tug
Hold any clean cloth like washcloth or a ribbon for baby to grasp and slightly tug the other end. Praise her how strong she is and let her win the game.