My K1 Visa Application: October 2016
Stey-by-step Process Experience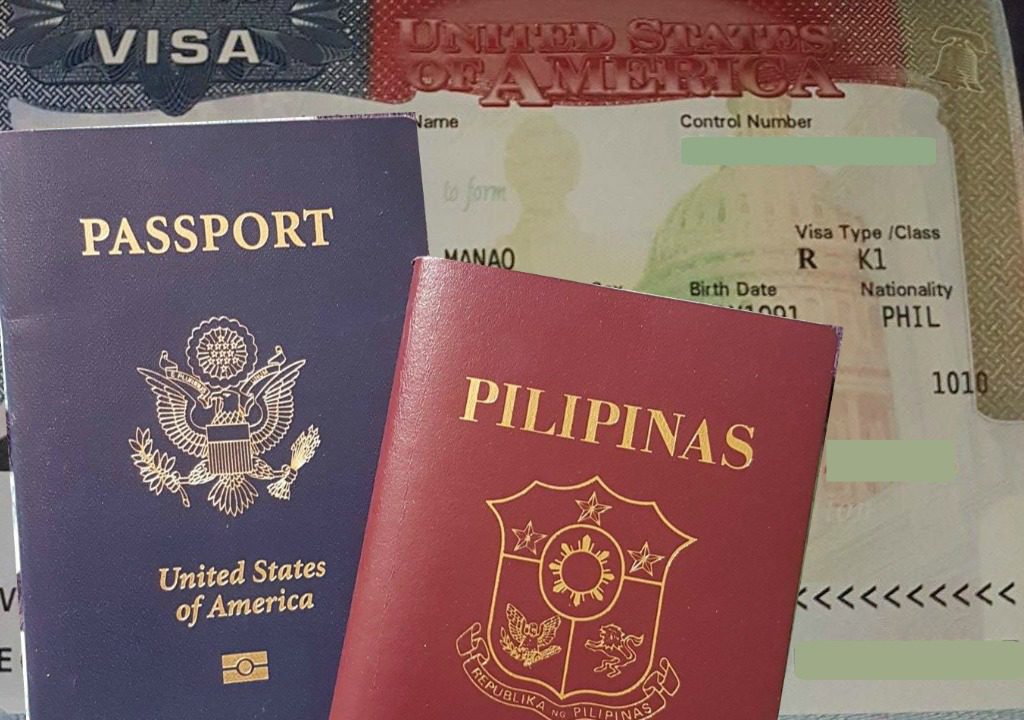 A fiancé visa is considered a K1 nonimmigrant visa type but in some cases, it can be considered as an immigrant type in some steps of the process. For instance, on the day of your interview appointment at the consulate you'll be asked to fall in line to the immigrant area when you are a k1 applicant and separated from the nonimmigrant visa type applicants. It is important to have an overview of the visa type you want to apply to and know the first steps to take and what goes through after each process. Upon doing some research we found the U.S Department of State, Bureau of Consular Affairs website travel.state.gov, typed in fiancé and directed us to the information we needed.
The first step is filing the petition; As a U.S citizen sponsor/petitioner, N as my fiancé filled up the form I-129F Petition for an Alien Fiance from the website of U.S Citizenship and Immigration Services www.uscis.gov which where you'll be directed by the first website when you clicked into that form.
REMEMBER: Download all the forms from the USCIS website because all the forms were updated per year and this is the legal website that contains all the necessary information for all U.S visa type application.
Before filing the petition, we have completed the required documents such as: individual form G-325A Biographic Information, form G-1145 E-Notification of Application/Petition Acceptance, individual photographs, a copy of my fiance's proof of citizenship, individual letter or original statement of intent to marry and photos as proof that we have met in person within 2 years before filing the form.
There are other requirements that applies to different case as fiancé so be sure to read the special instructions on how to fill up the form and important details available on the website. With these requirements, he filed the form together with the filing fee to USCIS and we waited for the approval of our petition and it took more than 2 weeks until we received our I-797 Notice of Action/Approval Notice, Nov.02,2016.


From the USCIS I-797 approval notice we received, we tracked our petition application status through USCIS website https://egov.uscis.gov/casestatus/landing.do using the provided receipt number. Our approved petition from USCIS was then sent to the National Visa Center (NVC). Exactly a month after, Dec.02,2016 we received a letter from the National Visa Center that they have received our petition from USCIS and stated that they will now forward our petition to the U.S embassy or consulate in Manila and the process will take several weeks.
Based to the NVC letter we received, NVC will send an email to me as the fiancé to inform me of the specific requirements I should prepare before scheduling an appointment of interview that would also mean that the consulate in Manila has already received our petition. But weeks have passed and I never received an email. However, as we tracked our case status online from the USCIS website we knew that the consulate in Manila already got our petition so I started to comply with the specific requirements for the interview. The required documentation is also enumerated from the website http://nvc.state.gov/k1
The second step is applying for a visa; I, the applicant and fiancé of a U.S citizen have process all the required documentation before the interview. While I am processing all the requirements I have called through their call center to set a schedule for appointment interview. The requirements I needed before scheduling an appointment is just the same with the first steps of application I made when I applied for a tourist visa before.  I paid the K1 visa fee to the BPI bank and filed the DS-160 form online. It was December 15, 2016 that I received my interview appointment confirmation through email scheduled on December 22,2016 at 7:30 a.m. Note that scheduling an appointment can also be done online, you can choose of whatever option that is more convenient for you.
*Required Documentation before the interview:
Passport valid for travel- make sure that its not yet expired and valid at least six months or more of your intended period of stay in U.S. I checked mine and its still valid until year 2019.
2. Completed form DS-160 and Confirmation Page print out- After submission of the form online I printed the copy of the confirmation page and kept it for the day of my interview.
3. Divorce/Death Certificate- this is if you or your fiancé/sponsor got any previous marriages before so this does not apply to us.
4. Police Certificate- To make sure of what to bring I applied for two certificates, NBI clearance certificate and Police Clearance Certificate.
5. Evidence of Relationship- this includes photos of us together on scrapbooks and albums, letters, emails, messages on messenger (the usual means of our conversation), summary of bank accounts where he used to send me money, receipts of our travel together, invoices of our online mobile balances we spent talking by phone, receipts of the packages we received from each other and all the proof of evidences I could provide I prepared it in case.
6. Evidence of financial support-  all the required documents were done by my fiancé and he sent me copies of it so I can bring it to the interview as proof of evidence that he can support me financially when I arrive in U.S.
He filled up the latest version of form I-134 Affidavit of Support from the website www.uscis.gov and send me a copy of it for my records. Aside from I-134 form he also sent me copies of his bank statement of account with deposits, his recent filed Income Tax Return, W-2 form and recent pay stubs from his employer.
REMEMBER: Keep your copy of the Affidavit of Support for it will be included to the documents that the U.S immigration requires upon arrival and entry.
7. Medical Examination-  full details are stated in the official website of USCIS travel.state.gov and St.Luke's Medical Center Extension Clinic website http://www.slec.ph/us-visa-applicants.shtml.
As a K1 visa applicant I got my checklist of the requirements prior to my medical examination from the official website of St.Luke's. First step I made was to register online on the same website. I completed the registration with the following information: Case information (details can be found on the NVC letter we received after our petition approval from USCIS), my detail information as the applicant and my petitioner's information or my fiancé's information. I printed out the copy of my online registration confirmation form as it was one of the requirements for my medical exam.
Next step was to complete the other requirements and provide photocopies for each of them. These are the following: valid passport, copy of passport biographic data page, letter with case number (from NVC letter), interview appointment confirmation from U.S embassy and 4 pcs. Recent 2x2 visa photo's.
REMEMBER: There are additional other instructions which apply for a different K1 visa applicant case like for example applicants applying with their kids as their derivative or applicants with previous marriages. There are also more additional documents that you may bring on the day of your medical exam if its available and applicable for your case. Make sure to read all necessary information and instruction on the website for your complete requirements. This blog is for the requirements and procedures of a k1 visa applicant only without any derivative or kids.
After completing all the processes in the medical examination for 2 consecutive days, with my passport and the receipt that St.Luke's Clinic provided, I claimed the sealed envelope packet that contains my medical examination records which I presented to the consulate officer on the day of my interview.
8. Passport Photos (2 pcs. 2x2 photographs)
9. Payment Fees
December 22,2016 at 7:30 a.m, Interview Day
With my ever supportive Mama, we traveled early in the morning going to the U.S Embassy for my interview. I brought all the required documents with me compiled in a clear book, well organized to ensure that I have all the necessary documents and proofs that the consulate might ask.
It was a consulate officer who was a foreign white young man with very decent look who called me in the line for my actual interview.  He greeted me politely, asked for all the necessary documents and some questions about my fiance and a little background of our love story. With all those simple questions, he continued checking my documents and after he had done through all of it, he finally congratulated me for being approved with my K1 visa application. He then informed me that my visa will be sent directly to my given address for 10 working days.
I got so happy that after 3 months of preparing and processing all the documents, it was all worth it.
Before the year of 2016 ended, I have received the packet from U.S Embassy which contains my passport with the visa and the sealed packet of my documents and my medical records.