Whether you're selling stuff from your own closet or you're a reseller of a certain product or any items, these 5 selling mobile online apps are my most guaranteed apps to sell your item fast and easy in the comfort of your own home.
These are buy and sell platforms that are free to download online.
A place where you can sell anything from apparel like clothing, accessories, etc., or big items such as kitchen wares or even furniture.
These e-commerce platforms also have the most possible buyers online since they have a bigger and wider audience. 

Being one of the most widely used apps online, Facebook Marketplace is the fastest way to make a sale. It's easily accessible through Facebook app and unlike some e-commerce selling apps, it has the easiest platform to navigate with when listing a product.
You will only need to upload photos, put in a title, indicate the price, categorize the product and add a simple item description until then your listing will be active.
Among other apps, I sold most of my products through Facebook, from small items such as bags to house furniture. The marketplace will allow you to sell within your community or outside your area if you choose to ship the item.
Choosing the shipping option will give you more exposure to possible buyers and more chances to make a sale!
Transactions are made easy too, once the buyer sees your listing, Inquiries will be sent through Facebook messenger.
As a seller, you have the option of how you would like your customer to pay, either through meet-ups or online payment since it's also possible for your buyer to pay you through this app.
If you have heard about Mercari, you know that items here are priced almost the same as Facebook Marketplace.
Even the shipping fee doesn't cost much compared to other selling mobile apps like Poshmark.
Also, the prices of items listed in Mercari are less expensive compared to Poshmark since it has lower seller fees. 
It just takes some time to sell on this platform compared to Facebook Marketplace.
Base on my experience, I prefer listing on Mercari second after the marketplace.
It's easy to list and post items, and after listing, you don't have to update and update your listing to sell, unlike other platforms.
You have the option to include the shipping fee on your product's listing price, meaning the buyer will pay the fee or you can cover the fee for your buyer and offer free shipping. 
Transactions are not too complicated, you can have a conversation with your buyers through the app and negotiate fairly about the price and shipping without ease.
Printing labels through the app is also an easy process. 
I sold mostly garments through this app from clothing to shoes and bags.
Unlike Facebook Marketplace, where you can meet your buyer for payment and delivery, here, every transaction I made was online, this includes payment and delivery.

When selling locally and posting slightly used products from your own home, Offer-Up is a great platform to sell!
Aside from no fees, the process is pretty easy, and posting an item is done just like in Facebook Marketplace.
Take a photo, add a description about it, and set your price.
Once you made all these steps, your listing will be visible to the platform's feed.
A notification will be sent as soon as buyers make an offer after seeing your listing.
Transactions can be made in person or through the app from payments to delivery. 
The best thing about Offer-Up for me is when I'm selling big items such as furniture.
I get great deals from buyers and sometimes they get to pick up the item from my home so it's less work for me.
Although I allow house pick-up, I am very careful about my transactions since there are a lot of scams and shady people on this platform nowadays.
One piece of advice, choose your buyers, only make transactions to people who have been verified by the app.
This platform verifies a profile through an I.D, a social media account, or a phone number.
This makes it more secure for sellers and buyers as well. 
If you're planning to clean up your closet and want to earn some cash for it, you can list it on this platform.
Poshmark is the place to sell preloved clothing including shoes, bags, etc.
It's a free app to download, with no listing fee, easy shipping options, and it's a huge market to sell.
However, among other selling mobile apps, Poshmark has a bit more complicated process of listing an item. It requires more work than others.
You have to be active to sell items fast and make sure that the items you're going to sell are in great condition or slightly used.
One more downside of this platform is that it has the highest fees compared to Offer-Up and Mercari.
The listing fee is free which is very helpful for beginners but if you sell an item, they charge a 20% fee for each sale.
This is only competitive if you're listings are selling really well. 
I sold some of my items here and got good deals with some of my buyers. I didn't really see much earnings with my sales after Poshmark takes their fees.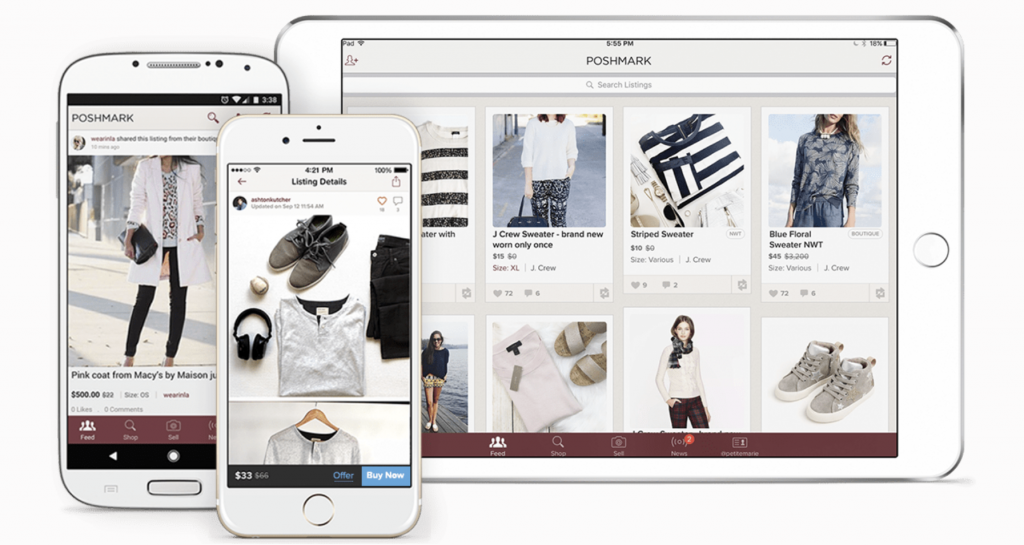 Poshmark is also like a social platform where you have followers in your closet and you share your listings with them.  If you are active on this platform most of the time, you will most likely sell your items fast.
The more active you are in sharing, the more visibility you will get in search results.
Craigslist has been widely used in the US as an advertisement website. In 2019, a third-party mobile app was made and it has been easier for people to use this platform. 
You can list an item and get notifications once there's an inquiry or if a new item is listed. Just like other selling apps, you just need to take photos, add a description and the price of your item. 
This platform has a bigger market since it has been there for a long time.
It has gained its reputation when it comes to advertisements and sales.
I also made some sales with Craigs from furniture to old appliances. It's a good way to get rid of some old stuff in your house and make it into cash. 
These are the Top 5 Mobile Selling Apps I have listed above:
I recommend to get good quality photos in each of the item you want to list online. It's also essential to have a clear and detailed description of the items that supports the photos you have uploaded.
Whatever platform you decide to list your items, I hope this helps you make money in the comfort of your home. Happy Selling!