What a great dog he turned out. My baby boy is a year old now and I don't have enough words to express how happy he has made me and my family. He is a big dog, he weighs a good 102 lbs but he is gentle. I have gotten used to being around Rio, I have learned so much from him this past year. There are so many reasons why I love my dog, things that I would never give up for anything in the world. I would go on and on writing about the reasons why I love Rio  but I'll just list a few that stand out he most for me.
He greets me every morning.
The moment I open the door of my room my furry friend is there circling around me with his tail wiggling from side to side. he sits and I bend down to pet him and tell him good morning. Before I can do anything else to start my day, I clean Rio's food and water bowl and give him his food and water afterwards. Already he has given me a good start to my day and I wouldn't want it any other way.
Knowing when I'm about to go out.
He knows when I'm about to go out when he sees me grab my bag and my keys and waits beside me to take him with me. Depending on the day, there are times when I can't take him with me, regardless he makes an attempt to convince me to take him along. He begs me with those adorable eyes, sniffs on his leash which is usually hanging on the hook behind the door. I pet him and tell him that I can't take him with me and assure him that as soon as I get back I'll take him out. He understands, he moves away from the door to sit down and watch me as I leave. As I get inside my car I look back to the window to see him standing there as to say "see you soon, I'll be here waiting for you". This never fails to make me happy.
He loves to play soccer, he makes such a great goalkeeper.
My little Brother Brad is a soccer fan, he plays with his soccer ball on the backyard all the time. One of the reasons we got Rio was because Brad convinced mom and dad that he needed a pet that he could play with. Rio definitely did not disappoint him, almost every day I see the two of them playing on the green grass on the backyard. Rio stands waiting at the goal stand as Brad prepares to shoot, both are panting and when Brad calculates where the ball might get in; he kicks and Rio immediately dashes towards the ball to prevent Brad from scoring, Rio grabs the ball between his teeth as Brad falls on the grass with his hands over his head in dismay. They continue paying until both are tired. I love watching them play, it is such a warm feeling to know that Brad has found a true friend for so many years to come.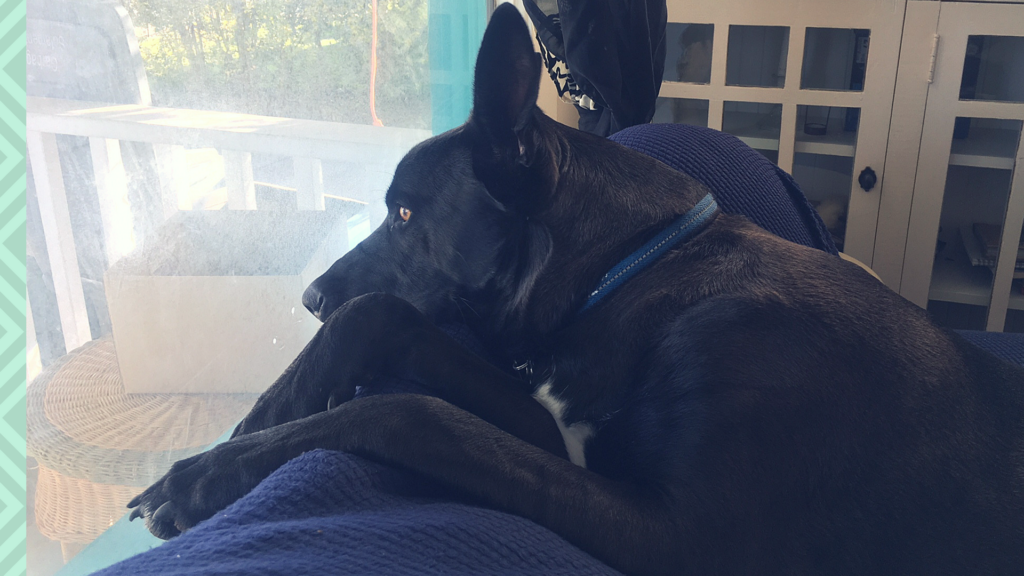 Looking at passing cars or people walking on the sidewalk out the window.
One of the things that Rio does is lean on the back of the couch to look at passing cars on the street. Every once in a while he wiggles his tail when someone with a dog walks by stopping only until they disappear behind the bushes. He even greets the mail man when he slips the mail in the mailbox. He watches him intently as he makes his way to the house next door. I believe this is what Rios does all the time when he is left alone for a few hours in the house. He know how to entertain himself while he waits for a car to pull over the driveway.
He lets me know when he
is
hungry by rubbing his paw on his food container.
Before I get close to the food container Rio is already there sitting next to it. He rubs the lid with his paws a few times telling me that it is time to eat. I proceed to open the lid and pour two cups of his food in the bowl, Rio just watches, waiting for me to finish and once I am done he looks at me asking me if it is OK for him to start eating to which I reply "go ahead boy". He jumps up and starts eating.
 
Playing hide and seek.
I throw one of his toys outside and he goes to fetch it by the time he comes back I am already gone, hiding somewhere inside the house. Once he reaches the front door he leaves his toy on the ground and goes looking for me. Sometimes I hide behind the door, under a desk or next to the couch. At first it took him a while to find me but he has gotten so much better. Once he finds me, he wiggles his tail in excitement and goes back to his toy waiting for me to throw it on the backyard again.
He likes to sleep with a pillow under his head.
Ever since Rio arrived to live with us he has always slept with a pillow under his head. When he sleeps on the couch he makes himself comfortable and places his head on the arm of the couch. Rarely I will see him sleeping without a pillow but that is when he is laying on the carpet when it is hot for him to sleep on his bed or the couch. I just think that is so cute, he truly brings a smile on my face when I see him sleeping like a little baby even though he is a big dog.
Rio lets me know someone is at the door when I'm somewhere in my room.
One of the benefits of having a dog is that they let you know when someone is about to knock on your front door. Sometimes I am sitting on the couch when Rio suddenly jumps up and walks to the window. I can tell from him when it is someone that I know or if it is a stranger. If it is an acquaintance he will incessantly wiggle his tail and his pointy ears pull back, he goes to the door to meet that person. If it is a stranger, he will bark, he will still want to go to the door and see who it is but he doesn't stop barking. When it comes to a stranger his goal of course is to warn me, my best friend lets me know to be careful and stands next to me as I open the door. Sometimes it's just the pizza guy or the UPS guy wanting me to sing a paper for him before he delivers a package, Rio calmly looks and relaxes. He is just a perfect dog, that will be there for me no matter what.
 
He makes me happy!
Oh what can I say, Rio is the perfect definition of happiness. One year has gone by very fast and I don't know why it took me so long to finally make the decision to have a dog. I don't know why I even doubt it, I'm just so happy to have Rio in my life.