A Humbled Man
He was a child of a poor couple living in a barrio, a small village far in the mountains of Romblon. He was a brother, later on got married to be a husband of a humbled woman and eventually became a Father. He gave his family a best father can give; a life full of love, hope, happiness and anything life could offer. He built his family a home not in elegance but in simplicity and contentment. As a father, he worked with all his might in all the ways he tried, to earn money and gave his family all the support he could. He had struggles and difficulties facing all the challenges in life but he became courageous to overcome them as he stood firm with his whole faith against each of these burdens, he became the strength of the home he built.
For his family, he became a man he never thought he could be. He became their hero, a hero who they looked up to for being so strong yet very humbled despite all the struggles and difficulties that life had given him. He never lost his faith, he never stopped moving his feet forward, he never gave up when he was already suffering. As a human being he sometimes felt weak but his bravery to protect his family against pitfalls of life was undeniably astounding. Though his life had been tough, he stayed well-founded and motivated to lift himself up whenever he felt frail. A man who had given his whole life working hard just to provide a better life for his family became a real father, a loving husband, a generous brother and a very caring son.
"Be on your guard; stand firm in faith; be courageous; be strong" 1 Corinthians 16:3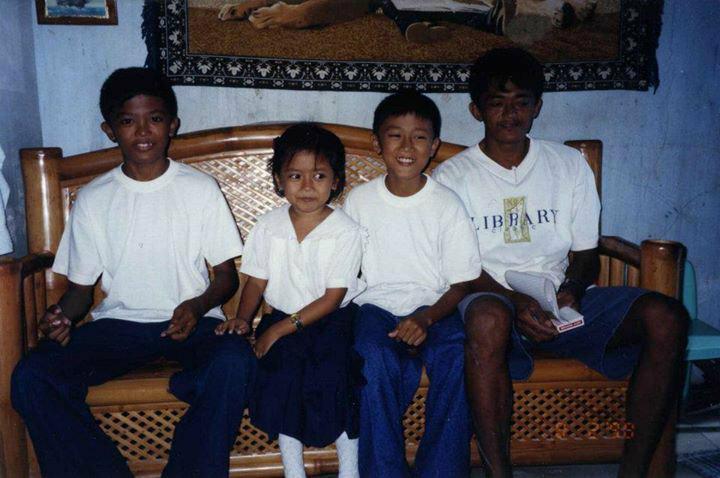 A Real Father
Unlike any fathers who worked in companies and offices with stable income to feed their family, he was different. He was not born with a golden spoon but he tried to gain education by himself, he worked and went to school at the same time. Due to their economic situation and life's circumstances, he didn't finish studying and never got any degree in college that would help him qualify for a stable job. At first, he had no money but he was very passionate on working, on learning, and discovering everything on his own. Financial scarcity was real during these early times but with his eagerness to work made him be a jack-of-all-trades man which helped him bring money home, he tried everything he could possibly done with his skills and that made him a good responsible provider for his wife and children.
Being a father of 3; two sons and a daughter. Being a father was a tough and very good challenge in life for him. He taught them proper manners, right disciplines and good guidance, he gave them freedom to seek the goodness of life on their own. Even though he had guided them well, there were situations that required him to be on his strongest state of being a father for the sake of love and comfort of his children. When one of his child lost his path, he was hurt and saddened but he didn't despise him nor tolerate him of his wrongdoings, he had hope for his son to be better again and so together they struggled and succeeded. From his own words "If I turned my back on my children, what kind of a father I am. If I lose hope on my own son, who will be patient and willing to guide and be there for him?". He was tough but at the same time he was kind and forgiving.
"Discipline your son while there is hope, And do not desire his death" Proverbs 19:18
For his kids he was more than a father, especially for his only daughter who spent most of her younger years with him until she became a woman, he was her first best friend and the first man she loved with all her heart. He was her living protector and knight against harm and danger, he was her safe comfort when she felt scared, he was her great listener when she needed someone to talk to, he was her travel buddy wherever she felt like going to an adventure and more importantly he was her inspiration of life. She had gained all her values from him, had grown into a well mannered woman, and had built her strong faith because of him and his disciplines. He had shown her how to value life and how essential it is to appreciate everything about life. He was not a perfect man but in her eyes, he was the perfect man and that made her dream of her own prince in the exact character image of him. She had witnessed him gain success with his patience, bravery and courage in life and that is what made her admire him the most.
She knows she loved him so much but her father's love for her was far more than she could ever give back. He loved his children unconditionally more and beyond the love that his children gave him.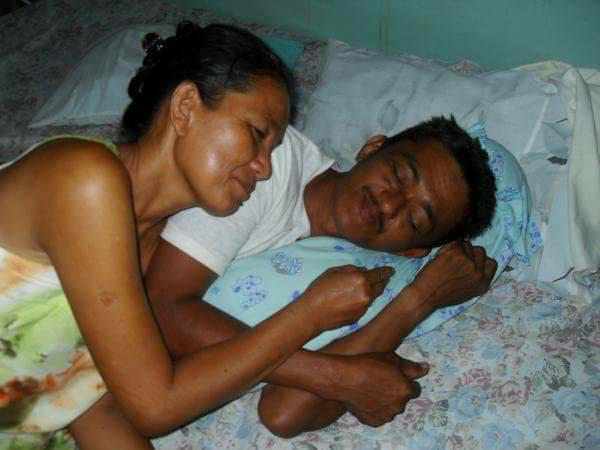 A Loving Husband
    Marriage life has lots of ups and downs but their own journey as a couple was an inspiring tale. As a husband he was always there for his wife from all life's hardships and adversities. He stood as her man in all life's uncertainty and stayed loyal and worthy of her love. They lived and worked together for decades of years but his love for her was as fresh as the first time they committed themselves to be one in marriage.
He was not the man a woman might be dreaming of, good-looking, wealthy, and appealing but for a woman who became his wife, he was humble, gentle, loyal, compassionate, generous, hard-working and a selfless man. From the hearts and thoughts of his children, he was a loving husband to their mother.
    His thoughts would always include his wife, how she is and what would she thinks. He would care with all her thoughts and feelings toward a decision to make or to a certain situation especially when it's concerning their family. He was considerate with all her decisions and respects her in every way, as his wife and as the mother of his children. He never fail to appreciate his wife's love, he kissed and hugged her every time he got a chance. When she felt sad and moody, he would dance crazily in front of her just to make her smile and laugh.
He made sure to show his wife that he valued and appreciated everything that she was doing for him and for their children.
"Husbands ought to love their wives as their own bodies. He who loves his wife loves himself." Ephesians 5:28
A Generous Brother
    He was not wealthy but his generosity to offer his help and share whatever he has cannot be denied by many. He helped a lot of people in his own simple way from his needy workers and friends to his family members, brother, sister and relatives. He shared the small amount of money that he had just to help with the needs of one. He also shared work with them to help them earn money and that way feed their families. He was generous enough to share his knowledge and ideas to someone who was willing to learn and work with him so that they could earn money together.
    He always had his big heart open to his brother and sister whenever they needed his help, either with money or moral needs. Even though he could not offer a full financial support to them, he tried to give as much as he could, on top of that he was a good listener and adviser whenever they needed to share their life issues with him.
"Better the little that the righteous have than the wealth of many wicked; for the power of the wicked will be broken, but the LORD upholds the righteous." Psalm 37:16-17                    
 
A Caring Son
He was not young, he himself was an aging parent but he was also a child and a son of a 90 years old couple. Even if he had aged as old as he was and despite of being busy with life, he cared so much for his parents all his life. He managed to visit them everyday after work even to his most tiring day. Like a small kid, he shared his stories with them and laugh together with his jokes. He frequently had special time with them by gathering the rest of his family to eat together and talk about life. This was his way of showing his parents his love and nowadays they still appreciate him of what he did for them and that always brings back memories which makes them miss him so much.
"Honor your father and your mother, that your days may be long in the land that the Lord your God is giving you."  Exodus 20:12
The special man that I am talking about was my beloved father. I have described him as best as I could but words will never be enough to express how much I admired him. I cannot be more proud and  grateful of him than I am now. I thank God for blessing me to have him as my father. I know that my life will never be the same without him but as we all know life just goes on whether we like it or not. But one thing I'm sure about is that no matter what my dad will always be in my heart and that he is now my angel in heaven, I know that he is still watching over me, my mama and my brothers, praying closer to God for our safety and guidance in the journey of life.